From time to time, the Department of Psychology will post opportunities to this page and update this information. 
As always, please remember that we do not explicitly endorse the opportunities that we pass along and we recommend that you do your own research. Our faculty would be happy to help students and alumni with that process.
If you would like to have an opportunity posted here, please email details to Eric Allard (e.s.allard@csuohio.edu). 
For information on external career services and professional organizations, please use this link. 
---
Student Organization Seeking New Members and Officers
The CSU Chapter of Upsilon Delta Mu Multicultural Fraternity (UDMMF) is a fraternal organization focused on cultural competency initiatives through community service efforts within the CSU and greater Cleveland community. The organization was founded by 2010 Psychology graduate, Patricia Carter, and students with an interest/background in psychology are encouraged to join (particularly those willing to take on a leadership role). Interested students can contact Patricia at p.c.carter@vikes.csuohio.edu for more information and details on how to get involved. You can also visit the organization's website through VikesConnect at this link.  
---
Undergraduate Summer Brain Research Program
Are you interested in learning about cutting-edge neuroscience research and gaining hands-on research experience? Are you considering applying to medical or graduate school in neuroscience, psychology, healthcare, or other related fields? If so, our summer program is perfect for you.
The Institute for Human Neuroscience at Boys Town National Research Hospital is inviting applications to our Undergraduate Summer Brain Research Program. Our 10-week paid intensive research opportunity begins on June 5, 2023, and ends on August 11, 2023. Housing is provided for students from outside of the Omaha metro area. Students accepted to our program will be matched with our experienced and well-funded faculty mentors to conduct in-depth research and data analysis in human neuroscience. Accepted students will also attend a variety of learning activities, including professional development workshops, journal clubs, lab meetings, and summer retreat presentations. Additional information can be found in the flyer below: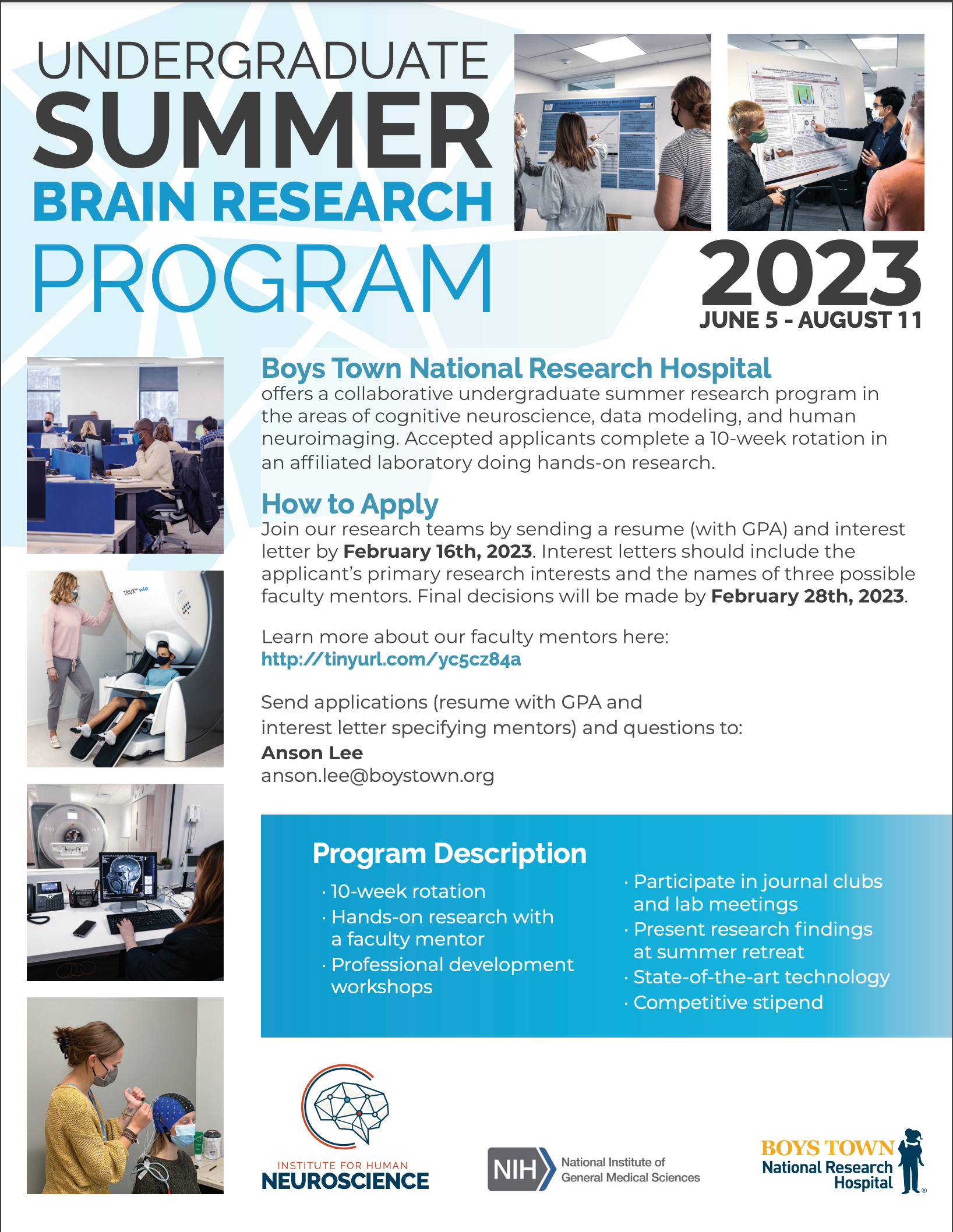 ---
Summer 2023 Internship Opportunity with JED
The JED Foundation is seeking interns for a 10-week paid internship during the summer (where academic course credit may also be available). The internship is designed for students interested in youth mental health and suicide prevention who also want exposure to the non-profit sector. Information about the summer internship program can be found at this link. 

---
Opportunity for Students to Receive Exposure to the World of Private Practice
Greetings! A local independent psychology practice, This Moment, in Cleveland Heights, is looking for anyone who would be interested in getting some exposure to the ins and outs of private practice. They need someone who can assist with social media, general admin. etc. 
This practice is run by a CSU alum (who also served as the student president of our Psi Chi chapter in 2013-2104), Peter Arian. If you are intersted in learning more about this opportunity, check the website below. 
https://www.321thismoment.com/
---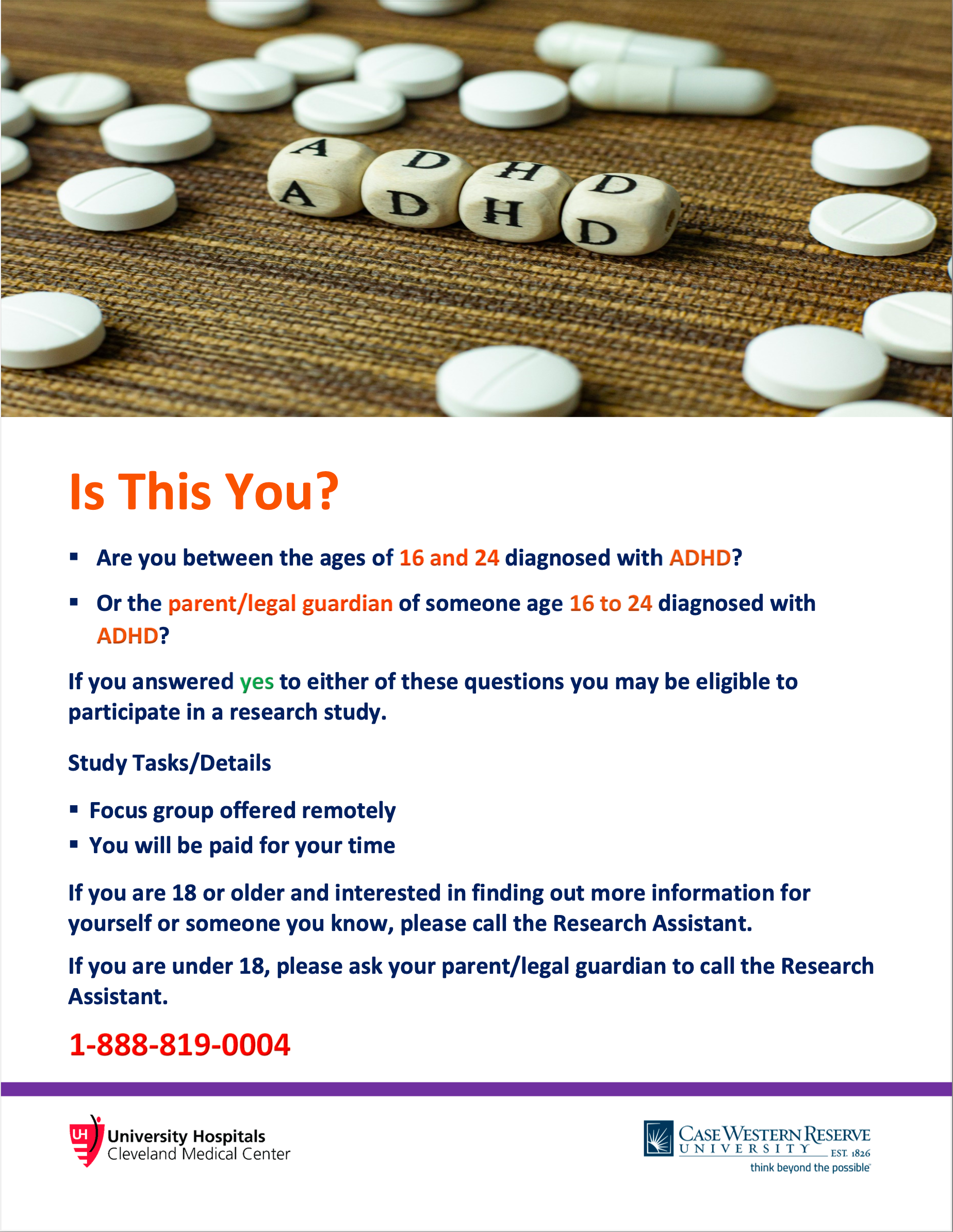 ---
Paid Research Experience Opportunity for Summer 2023
The iSchool at Syracuse University is hosting a 9-week summer research fellowship for undergraduate students from social science majors who are interested in technology and its impacts on industry, education, health, the environment, and other sectors. Successful applicants will work on-site at Syracuse's campus and receive a $6,000 stipend (along with free meals and housing). Those interested in applying can located more information at https://ischool.syr.edu/summer-2023-paid-research-experience/.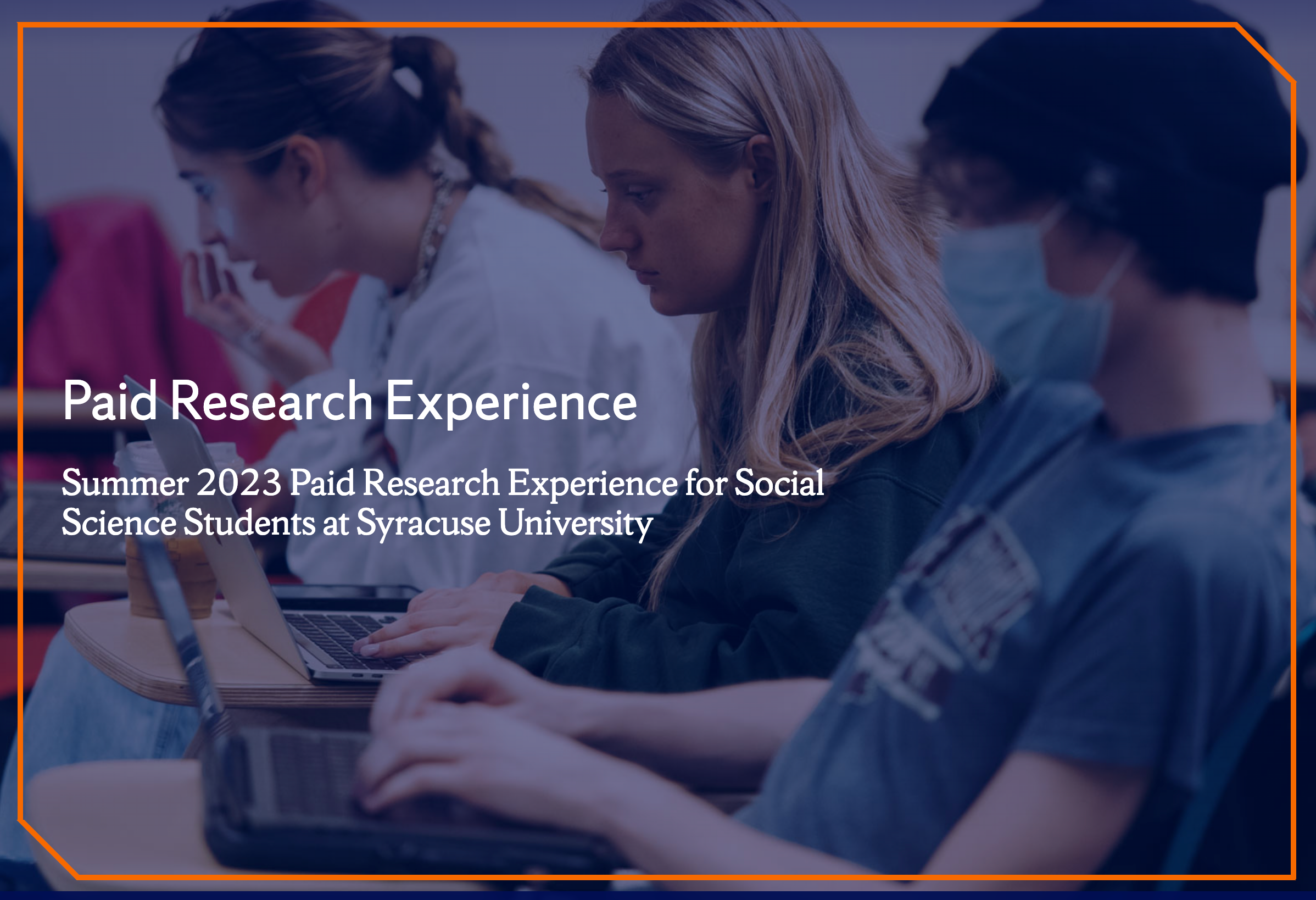 ---