A student may earn internship credit (through PSY 391, Internship Experience) for securing and completing successfully a psychology-related workplace experience. Here is a link that outlines the process by which internship experiences are evaluated and approved. Please read carefullly the steps required to secure an approved internship experience. Here is a link to the formal internship application form that needs to be filled out by the student and signed by the faculty supervisor and site supervisor. 
Note that to earn credit for an internship in Psychology, the experience must be related to Psychology in some way. As explained in the document, a student must work with a psychology faculty member to ensure that the experience is suitable for psychology credit.
Faculty members willing to discuss potential internship experiences, and their general areas of expertise, are listed below:
Liz Goncy: Assistant Professor and licensed Clinical Psychologist interested in the healthy well-being of adolescents and young adults. She studies ways to promote adolescent development and prevent adolescent and young adult problems with dating abuse, substance abuse, and psychopathology.
Michael Horvath: Associate Professor, Associate Chair, and specialist in Industrial-Organizational Psychology. His interests center on work-nonwork balance, religiosity in the workplace, and job-seeking behaviors and cognition
Colleen McMahon: Associate Professor and licensed Psychologist with expertise in School Psychology interested in school-based assessment and treatment of student learning and behavior problems and parent management of child behavior problems.
Shereen Naser: Assistant Professor and licensed School Psychologist interested in how schools respond and support students with behavioral issues. She is particularly interested in how schools support students who are culturally and linguistically diverse.
Fred Smith: Professor and Experimental Psychologist who is interested in health survey methods. He collaborates with nutritionists and dietary science experts on how to improve methods to collect accurate data regarding children's dietary intake.
---
Link to register for an info session can be found here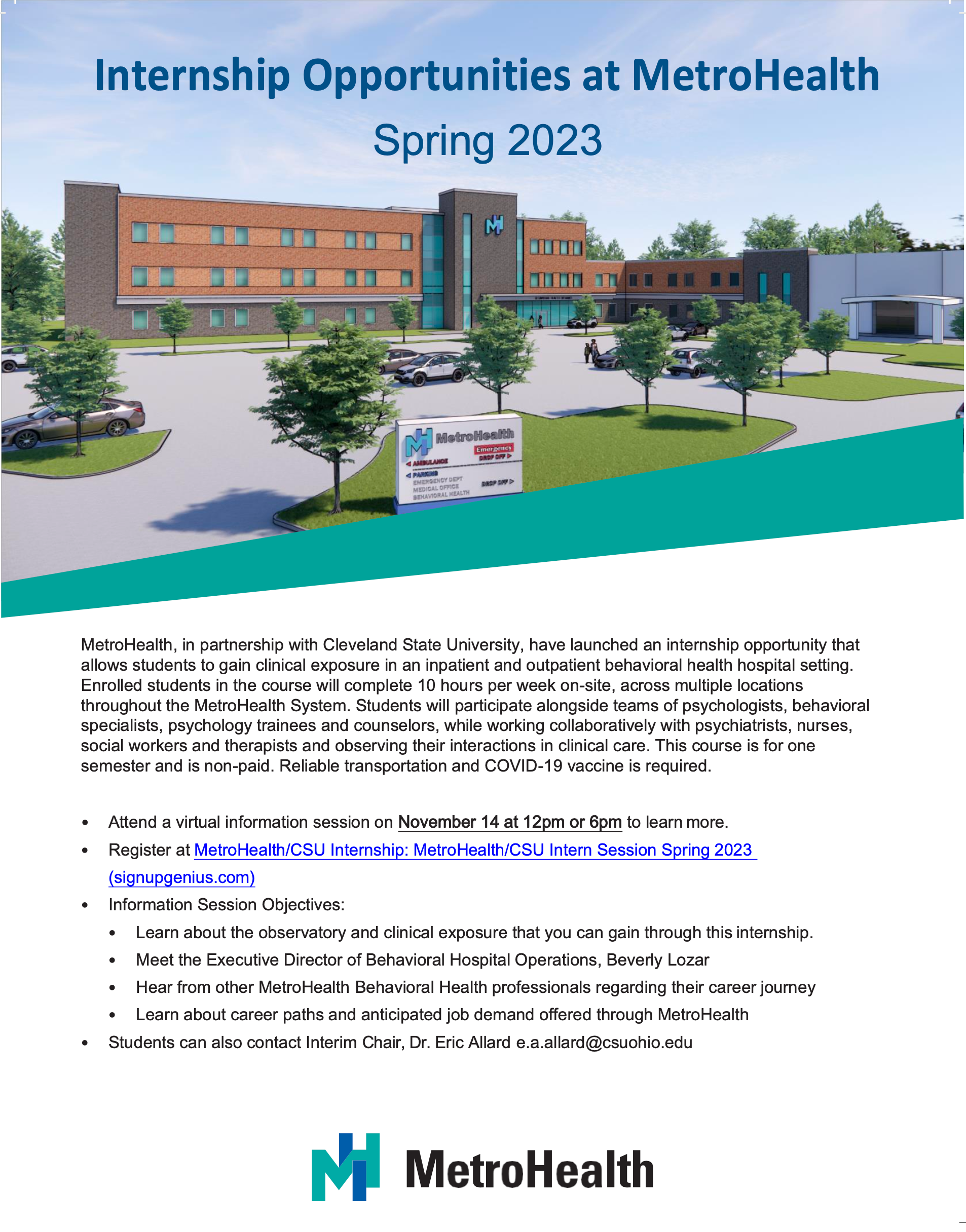 ---
Do you have a passion for raising mental health awareness? Are you someone who wants to be part of a national movement to support people with mental illness, provide education and resources, and eliminate stigma everywhere? 
NAMI Greater Cleveland's internship opportunities are unpaid and are available to rising juniors and seniors enrolled in accredited four-year university programs, as well as graduate students. 
For the Helpline, full fall/spring academic year internships are required. NAMI Greater Cleveland's Helpline and Volunteer Coordinator is also equipped to provide clinical supervision to bachelor's level social work students serving as Helpline interns. A minimum of 8+ hours of work weekly from all interns.
NAMI Greater Cleveland internships allow you the opportunity to build professional relationships in the nonprofit mental health field to strengthen your chances of finding employment upon graduation. NAMI Greater Cleveland is always looking for creative individuals who are passionate about mental health advocacy and eager to put their unique stamp on more relevant and innovative programming.
POSITION DESCRIPTION:
Job Title: Helpline Internship
Reports To: Helpline & Volunteer/ Intern Coordinator
Department: Program Department Last Revision: June 2021
PURPOSE:
NAMI Helpline Interns are scheduled on a weekly basis to answer phone calls from members of the Greater Cleveland community looking for mental health resources. Helpline Interns offer information, support & resources to people looking for assistance and community resources regarding living with mental illness.
LOCATION:
This internship is currently available on a virtual basis, but some in-person activities may gradually be incorporated. Business hours are (Monday - Friday 9 AM – 5 PM)
ROLE REQUIREMENTS:
Basic computer skills, strong phone etiquette and communication skills, and the ability to problem-solve and work independently.
Interns must be enrolled in an accredited college or university with a focus in psychology, business management, social work, sociology, communications, non-profit, criminal justice, health professions, social services, or related field.
Commitment to a full academic school year is required. Accelerated semester/summer internships are not available at this time, for this specific internship.
Interns are expected to complete a minimum of 8+ hours of work weekly.
Experience with mental illness personally, as a caregiver, or as a professional is helpful but not required.
Successful completion of NAMI training course.
Current member of NAMI, or willingness to join.
Means to participate (e.g., reliable transportation, access to internet connection/device to support participation by Zoom or other electronic meeting platform)
INTERNSHIP RESPONSIBILITIES:
Respectfully and effectively respond to calls, emails and live chat inquiries to NAMI Greater Cleveland Helpline service, in accordance with the NAMI Helpline model.
Maintain the privacy of people who contact the Helpline by keeping their sensitive, private and personal information confidential.
Intervene immediately and appropriately when there is a danger of harm to a Helpline caller or others.
Complete data collection and recordkeeping tasks in an accurate, timely manner.
Maintain a high level of energy and enthusiasm for NAMI and NAMI Greater Cleveland's mission and purpose.
Conduct work in a manner that is aligned with NAMI Greater Cleveland's mission and consistent with the organization's policies.
Demonstrate a positive, professional demeanor with NAMI Greater Cleveland community partners, staff, and other volunteers at all times.
Respect, relate to and represent the interests of persons with mental illness and their family members.
Respect the values, norms and customs of diverse populations and cultures.
Recognize and respect the expectation not to act on NAMI Greater Cleveland's behalf or represent NAMI Greater Cleveland outside the scope of the role requirements/ internship responsibilities of a Helpline Intern, as outlined in this volunteer position description.
Compensation:
This is an unpaid position. There is opportunity for school credit if allowed by the college/university of applicant. Position offers an excellent opportunity to work on substantive projects and can result in a great reference.

OUR COMMITMENT TO DIVERSITY, EQUITY, AND INCLUSION:
At NAMI, we believe a diverse, inclusive, and equitable organization (or Alliance) is one where all volunteers, employees, and members — regardless of gender, race, gender identity, ethnicity, national origin, age, sexual orientation, education, disability, veteran status or other dimension of diversity — feel valued and respected.
We are committed to providing informed, authentic leadership for cultural equity and modeling diversity and inclusion for the entire NAMI alliance.
We expect all of our interns to embrace this notion and to express it in program interactions and through everyday practice.
We are committed to a nondiscriminatory approach and to providing equal opportunity for internships in all programs & worksites.
Here is the direct website to apply: https://namigreatercleveland.org/get-involved/become-an-intern/
For more information, students can contact Interim Chair, Dr. Eric Allard.