The Society of Physics Students is organized by the students, under the supervision of Dr. Kiril Streletzky. SPS organizes seminars, the annual catapult contest, ice cream parties with liquid nitrogen, outreach to schools around CSU, and many more activities.
The CSU-SPS Chapter is nationally recognized with: 13 consecutive Outstanding SPS Chapter Awards (2009-2022); 11 Marsh White Outreach Awards (2011-2019, 2021, 2022); two (2012, 2015) Blake Lilly Awards; three (2016, 2019, 2022) SPS Chapter Reporter Awards; 2016-2017 SPS Chapter Research Award; 2013-2014 Future Faces of Physics Award; 2017-2018 Sigma Pi Sigma Chapter Project Award; 2015 SPS Outstanding Chapter Advisor Award (Streletzky); two 2019 SPS Leadership Scholarships (Tietjen, Adamczyk), a 2022 Peggie Dixon Two-Year Award (Herron), three student Reporter awards, 2021 Food for Hungry Physics and Astronomy Students, and more than 40 SPS Travel Awards since 2007.
Learn about some of our student SPS leaders from past and present here (Marie Blatnik, Jacob Adamczyk, Samantha Tietjen, Andrew Scherer) and read articles about SPS involvement by CSU's SPS leaders written mostly by CSU students: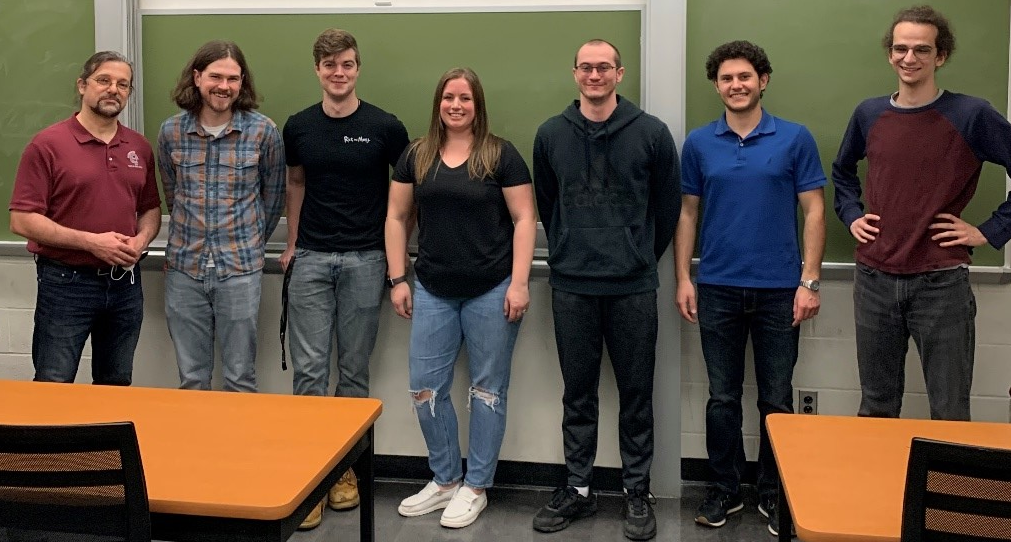 Officers of the CSU-SPS Chapter (left to right): Dr. S (SPS faculty adviser), Andrew Scherer (past SPS president), Patrick Herron (SPS president), Jordan Miller (SPS treasurer), Collin Douglas (SPS secretary), George Tomaras (SPS vice-president), and Jacob Forester (SPS Historian).
For more information, visit: