Posted on July 18, 2023 at 4:01 PM, updated August 22, 2023 at 8:30 AM Print
CSU Physics Students Bring the Fun of Everyday Physics to Bath Elementary School
Members of the Society of Physics Students (SPS) at CSU take great pride in their "Physics Fridays" outreach efforts throughout the years with schools in and around Cleveland (e.g. Campus International School, MC2 STEM High School, Bio-Med Academy). This year they have made new connections and had their first outreach outing to the Bath Elementary School on May 31. During this event, several of the SPS chapter members (4 current SPS officers: Patrick Herron, Jordan Miller, Collin Douglas, and Grace Miller; an SPS outreach alum: Jim Pitchford, and an SPS adviser: Dr. Streletzky) went to the school to interact with and do various demonstrations for a fourth-grade class (34 students) We spent several hours with the class, showing them the physics behind the sound. The day consisted of a main demonstration focused on the concept of sound waves and 3 breakout sections (Sound waves in tubes; Sound propagation and reflection; Physics of musical instruments) that the students rotated between.
CSU students had a great time at Bath Elementary and ended the outreach by answering many science-related questions from fourth graders. This is always a fun way to end things which we highly recommend because you will hear questions you will never hear anywhere else, and it helps the students remember the day. Below are the pictures from this outreach trip.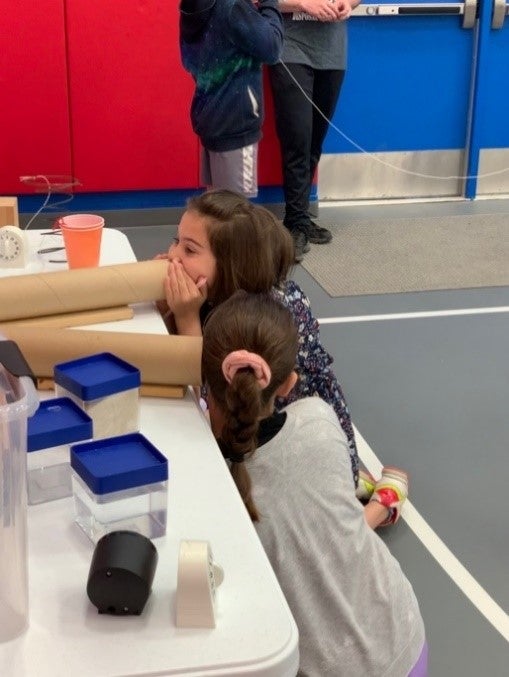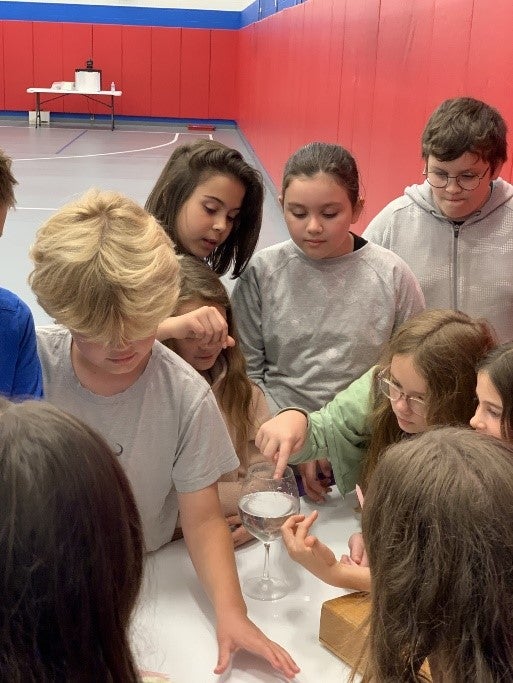 | | |
| --- | --- |
| Students listen for reflected sounds. |           Singing glasses at the "Musical Instruments" station. |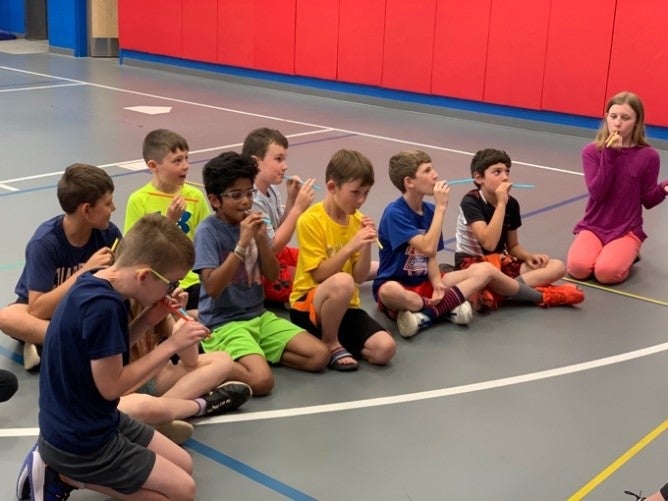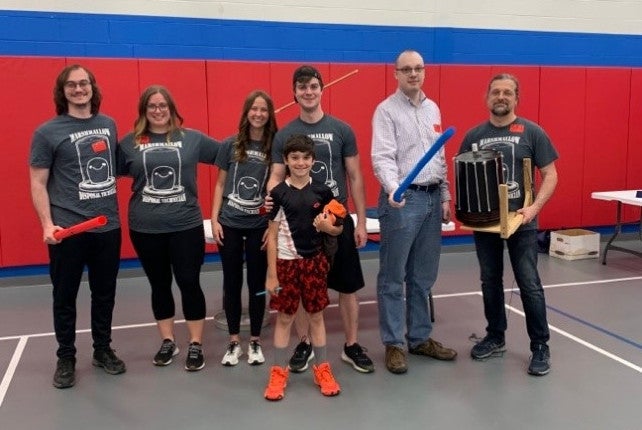 | | |
| --- | --- |
| Kids playing straw oboes. | Group photo after outreach. |
As a great surprise for CSU students and their advisor, all the children wrote thank you notes which included their favorite moments and even some hand-drawn pictures. Reading dozens of thank-you notes from kids was a great reminder of why we do this outreach. Some snippets are shown below:
"It was so interesting seeing your team work together. The knowledge that you guys have is amazingly cool! The singing tubes were my favorite. They make the coolest sound in the world." – Georgia S.
"Thank you so much for coming to our school. I had a lot of fun learning about sound waves! When I grow up I hope that I will become a scientist" – Sally
"I thought it was so cool when the cups filled with water started vibrating when I put my wet finger on the top. It felt so weird! The kazoos made out of straws were really clever. I can't wait to annoy my parents with it!!!" – Theodora
"I had so much fun at the presentation. I loved the music and sound wave station. I can't wait to tell my parents, brother, and pets all about it!" – Alex J.