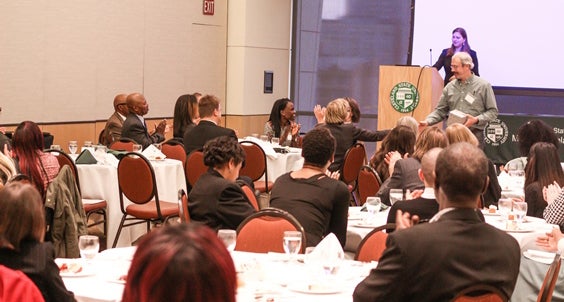 BGES faculty are devoted to creating an engaged learning environment for graduate and undergraduate students in the classroom, teaching laboratories, and in their research laboratories.
All undergraduate students majoring in Biology or Environmental Science are encouraged to engage in a research experience through independent study in a faculty member's research laboratory or through an external internship. 
Research experience is required for all University Honors, Scholars, and McNair fellowship students. 
In a typical semester, there are 80 Honors/Scholars/McNair students that are either Biology or Environmental Science majors. 
Three BGES faculty have been honored with the McNair Faculty Mentor of the Year Award:
Dr. Crystal M. Weyman (2013)
Dr. Robert A. Krebs (2015)
Dr. Aaron Severson (2018) 
List of Current Undergraduate Student Researchers
Mareem Ali, Ishaan Dixit, Victoria Bensimon, Michael Keller (McNair), Nicholas Hogya, *Brittany Dalton, *Jordyn Stoll, Kyle Schroeder (Honors)
*awarded the 2015 Ohio EPA and Ohio Academy of Sciences Environmental Science and Engineering Scholarship.
List of Former Undergraduate Student Researchers
Darsham Gonzales, Jen Gula, Larry Frisch, Rich Mohner, Nayla Touma, Glory Zho, Kaitlin Szabo, Terri Harford, Melissa Barth, Dorothy Craciunescu, Chris McGinness, Chaucola Pleasant, Greg Kliment, Lindsey  Miller, Samantha Hess, Frank Marealle (Honors), Ayana Wilson (McNair), Alex Kariotakis (McNair), Sarah Milosek (Honors), Katherine Smetana (Honors), Khadidja Benmerzouga (Honors), Marina Bykova, Anah Khan (Honors), Jad El Achkar, Anna Gartner, Sateikaite Leva, Mira Akhumian, Erik Shepard, Dina Newash, Lee Panter, Irene Sobkiv, Eugene Tararova, Artem Astafiev, Imaan Benmerzouga (Honors), Clara Antoury (Honors), Emiliya Akhumian (Honors), Teodora Nikova (Honors), Brandon Smith, Fan Wu, Trisha Dreslinski, Noor Al-Nazer, Nivedita Clark, Jonathan Antenucci, Jaclyn Logue, Palak Patel, Sir Joshua Hellsing, Miao Wang, Adaobi Davidson, Octobeur Sistrunk, Mellissa Hairston, Nisha Thaker, Jennifer Berkey, Ryan G. Budziak, Teodora Nikova, John Sabljic, Olivera Prica, Siddharth Patil, Jinani Slaibi, Jason Rozick, Ibrahim, Abdelfatta, Richard Wisenewiski, Michael Arcuri (Scholars), Megan McGervey (Honors), Giovanna DeMarco, Andrej Gabrovsek, Thomas Renicker, India Eaton (Honors), Andrew Guzowski, Andrew Sadowski, Fred Guzzo, Mark Biro, Melanie McDowell (Honors), Jose Gracia, Maitree Patel (McNair), Cathy Bender, Craig Morton, Antoinette Hereford, Cheryl Haumesser (Honors), Sari Holbrook (Honors), Angel Fasolo, Jackie Tran, Henk Markgraaf, Chuck Laszlo, Jessica Kelty, Heather Griffith, Roxana Vlasceanu (Honors), Shanta Harsa, Jackie Miller, Kim Thompson, Anna Figura, Mark Lyons,  Jeremy Holt, Michelle DeMarco, Tory Arner, Dan Gouch, Erin Steiner, John Hook (Honors), Jeff Pallotta, Tamara Medeiros (Honors), Matt Villaire (McNair), NaTasha Evans (McNair), Brian Allen (Honors), Rachel Andrikanich, Stephanie Sredniawa, Sherry Cucci (McNair), Paul Orifice, Elizabeth Barkett, Govind Sailesh Pappu (Scholars), Jared Less, Allyson Craig (Scholars), Ynes Arocho, Tom Bienvenue (Honors), Derrick Cooper, Darcy Chase, Abner Garcia, Mark Gatesman, Luke Heberle, Kelli Herrick (Honors), Joseph Higgins, Kathryn Johncock, Mallory Karpy, Alisia Kifer, Michael Lambur, Joseph Maniaci, Vira Moroz, Justin Ostry, Rob Snyder, Monique Russell (McNair), Brendan Skrtic, Rachel Winegar, Elspeth Mitchell, Monica Busam
UNDERGRADUATE FUNDING
STUDENTS FUNDED BY PROVOST
Students
Personal Investigator's Lab
Siddharth Patil, Andrej Gabrovsek, Andrew Guzowski, Mark Biro
Dr. Girish Shukla
Sarah Milosek, Katherine Smetana, Greg Kliment, Oluwasanmi, Mareem Ali
Dr. Crystal Weyman
Brittany Dalton, Mark Gatesman, Tom Bienvenue, Justin Ostry, Kathryn Johncock, Derrick Cooper, Mallory Karpy
Dr. Julie Wolin
Kyle Schroeder, Rachel Winegar, Brendan Skrtic
Dr. Aaron Severson
STUDENTS FUNDED BY NIH
Students
Personal Investigator's Lab
Chris McGinness, Chaucola Pleasant, Greg Kliment, Lindsey Miller, Khadidja Benmerzouga, Alex Kariotakis, Samantha Hess
Dr. Crystal Weyman
Imaan Benmerzouga, Clara Antoury, Emiliya Akhumian, Teodora Nikova, Brandon Smith, Fan Wu, Jonathan Antenucci, Palak Patel, Sir Joshua Hellsing, Miao Wang, Nisha Thaker, Jennifer Berkey, John Sabljic
Dr. Bibo Li
STUDENTS FUNDED BY NSF
Students
Personal Investigator's Lab
Thomas Renicker, India Eaton
Dr. Girish Shukla
Darcy Chase, Abner Garcia
Dr. Julie Wolin