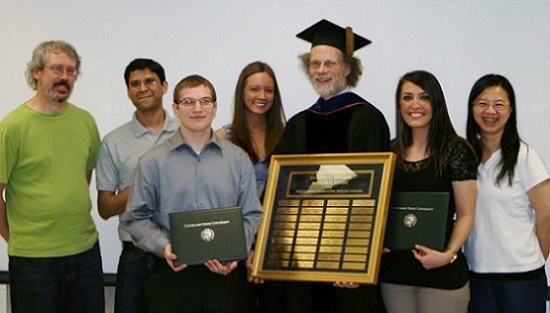 The BGES department recognizes our most promising undergraduate students with the following three outstanding senior awards: 
The Doretta Thielker Award for outstanding Biology senior(s)
The Tarun Mal Awardees for outstanding Environmental Science senior(s) 
The Thomas Lewis Award for outstanding Geology senior(s)  
The recipients of these awards are selected by the BGES Undergraduate Committee on Curriculum and Academic Standards, on the basis of nominations from faculty. The selection criteria include but are not limited to, overall grade point average as well as active participation within the Department. 
Each of the recipients receives an official certificate commemorating this accomplishment, a modest monetary gift, and their name is added to the respective plaque to hang in perpetuity in the BGES office.
DORETTA THIELKER MEMORIAL AWARD FOR OUTSTANDING BIOLOGY SENIORS
Student
Year

Hebah Aladaileh, Umida Burkhanova, Lindsey Tout, Zoe Trumphour, Maria Rivera Paz

2022
Hans Bogenrief
Ariana Chriss
Cheyanne Foster
Caleb Lumsden
2021
Regina Bellian, Elizabeth Beran, Rose Gott, Laila Terkawi, Delarasadat Seyed Toutounchi
2020
Nicholas Lesh, Eve Schodowski
2019
Eviania Likos, Francisco Monge Neria, Jesus Monge Neria, Allison Paolucci, John Sabljic
2018
Maryam Assar, Abdo Boumitri, Maitri Patel, Taylor Schilling, Hallie Schmolz 
2017
Tia Nikova
2016
Dan Volk
2015
Steve Gibson
2014
Steven Zimmerman
2013
Emiliya Akhumian, Brian Allen, Marta Makuszewski
2012
Claire Stansbury, Megan McGervey
2010
Clara Antoury, George Meszaros
2009
Imaan Benmerzouga, John Hook, Kyle Koloini, Katherine Smetana, Angela Stuczka
2008
Dorothea Craciunescu, Sean Gaines, Sarah Milosek
2007
Jessica S. Arth, Mark S. Lyons, Kimberly A. Thompson, Vanessa A. Varaljay
2006
Jennifer C. Giboney, Sonya E. Steckler
2005
Katarzyna Buzanowska, Terri J. Harford, Melissa A. Jedlicka, Cheryl Molenda
2004
Janetta G. Koomson, Jacqualin M. Miller, Neeta Parimi
2003
Hesham H. Malik, Ann M. Nicholls
2002
Catherine E. Downing, Maria A. Kirigin, Nayla Touma
2001
Kristine Kaiser
2000
Allison M. Bloam, Peter Laszlo, Melissa L. Samodell, Sari H. Holbrook
1999
Robert Anthony, Daniel, Laszlo, Jessica S. Toth
1998
Tracie R. Baker, Jonathon D. Cepek, Nora E. Gerson, Boi Thuy Huyen, Stephen J. Miklethun, Keyur Vyas
1997
Nichelle Coleman, Richard DelRio, Ami Linder, Daniela Smith, Trevor Weaver
1996
Michelle Kaczmarek, Jeanne Knotek, Joan Vernon
1995
Elise R. Hoff, Suzanne Vana, Daniela G. Messineo
1994
Robert Bear, Steven Kudravi, Diane Szemenyei
1992
Craig D. Karr, Barry C. Mita
1991
Thomas O. Masten, Douglas S. Moinuddin, Jennifer R. Schwartz, Rebecca L. Smith
1990
Elizabeth M. Boris, Andrea M. Hujer, Loren Kanter, Michael S. Palcisko
1989
Steve E. Asmus, Susan M. Bremiller, Virginia A. Nivar, Martin S. Pavelka
1988
Michael E. Dillehay, Jennifer A. Krall, Jana S. Lange, Thomas E. Makowski
1987
Rose G. Chermansky, Alice S. Mihelcic
1986
Rita R. Kazlauskas, Roseanna Lechner, Carol Reynolds Raab
1984
Mary K. Gardner, Amy L. Godwin, Cynthia M. Strieter
1983
Dallas Auvil, Bernadett Jakomin
1982
Kathryn Burns
1981
Deborah L. Mroczka
1980
Beth L. Sersig
1979
TARUN K. MAL MEMORIAL AWARD FOR OUTSTANDING ENVIRONMENTAL SCIENCES SENIORS
Student
Year
Maxwell McNeill, Catherine Weyman Heller
2022
Audrey Atzel
Alexandra Ferkul
2021
Atticus Kenny
2020
Alex Johnson, Travis Rainey
2019
Brittany Dalton, Anne Roberto, Jordyn Stoll 
2017
Nikko Hogya
2016
April Miller, Natalia Brijcoomar 
2015
Joseph Higgins
2014
Peter Bode
2013
Courtney Brennan
2011
Ken Safranek, LeeAnn Westfall, Max Koran
2010
Erin Huber
2009
Erick Butler, Dawn Minnick
2008
Ynes Arocho, Daniel Gouch, Erin Steiner
2007
Jacqueline Zassick
2006
Colleen C. Sharp
2005
| Tarun K. Mal Memorail scholarship for outstanding junior in environmental science |   |
| --- | --- |
| Student | Year |
| Semra Dervisevic, Simone Dixon                                      | 2022 |
| Catherine Weyman Heller, Rose Polgar,  Maxwell McNeill, Andrew Scherer | 2021 |
| THOMAS L. LEWIS MEMORIAL AWARD FOR OUTSTANDING GEOLOGY SENIORS  |   |
| Student | Year |
| Sadia Syed | 2020 |
| Abdulla Aldar | 2015 |
| Richard Depew | 2013 |
| Jacob Thacker | 2012 |
| Nicole Glazer | 2011 |
| Charles Truett | 2010 |
| Melinda Stahl | 2007 |
| Belinda Franko | 2006 |
| Zorica Dejanovic | 2005 |
| David P. Cronin | 2004 |
| Rebecca A. Miller | 2002 |
| Nelson R. Andrekovic, Larry L. Oliver | 2001 |
| Ann VanderSchrier, Brian Jicha | 2000 |
| Heather Jones, Rebecca Kempthorne | 1999 |
| John St. John | 1998 |