Dance is the hidden language of the soul. – Martha Graham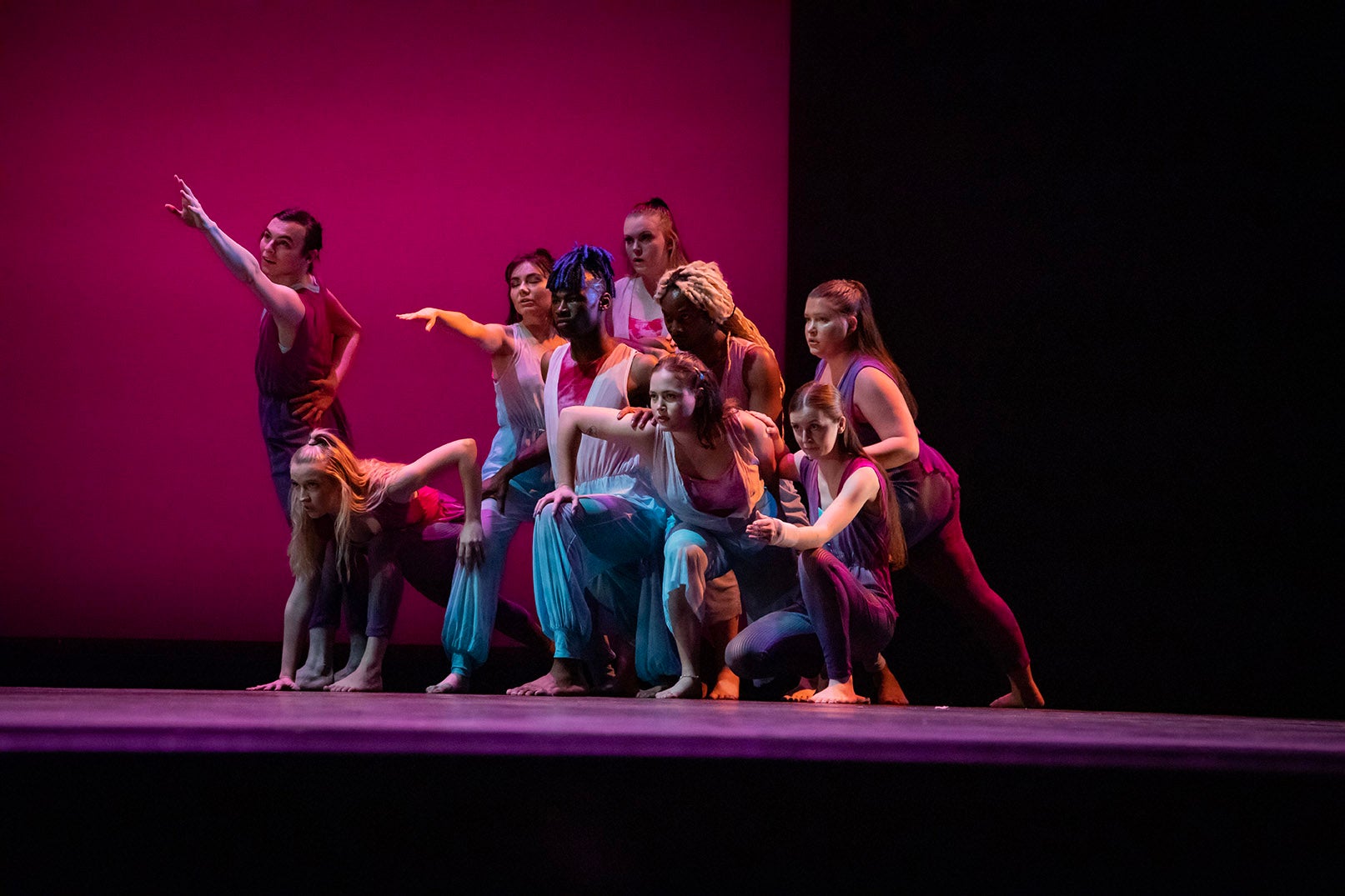 (Photo by Steve Wagner 2023)
DECLARING DANCE MAJOR AND MINOR:
You do not have to audition to declare a Dance major or minor! You just have to register through the University Registrar. 

AUDITIONS: Auditions (scroll for details) are held every Spring semester for the following academic year and determine:
Course placement, where applicable
Ensemble Participation (CSU Dance Company)
ENSEMBLE PARTICIPATION: There is one dance performance-based ensemble in the CSU Department of Theatre & Dance. Ensemble (CSU Dance Company) members participate in dance-making processes by learning new and repertory works; develop creative processing and performance skills; study with renowned visiting guest artists; and have the opportunity to perform in various settings, including the Playhouse Square Theatre District! In order to participate in either ensemble, students must attend auditions, and adhere to the following:
All current/registered CSU students may be considered for dance ensemble, regardless of major or minor

FOR DAN 300 (Dance Company): be concurrently enrolled in DAN 360 or higher

Scholarships are awarded to participants of dance ensemble, provided 2.5 minimum GPA
---
AUDITIONS WILL BE HELD:
THERE ARE NO CURRENT AUDITION DAYS SCHEDULED - PLEASE CHECK BACK!
*There is no registration fee to audition
GENERAL IINFO FOR WHEN AUDITIONS TAKE PLACE:
WHERE: CSU Arts Campus, 13th Street Building (formerly known as the Middough Building) MB 523
PARKING: Parking is in surface lots and street spaces as available in the area – please allow ample time to find a place to park. If you have a valid CSU Parking Pass, you may park in the building itself beginning AFTER 4:00pm (but not prior, and not if you do not hold a pass). Please check Campus Parking to see other nearby CSU lots open.
PREPARATION: Dancers seeking participation in auditions are not required to prepare any material. Please come in attire that is easy to move in and does not restrict or inhibit movement. Come early to complete any additional paperwork- and come ready to dance!
Any additional questions, please contact us at dance@csuohio.edu