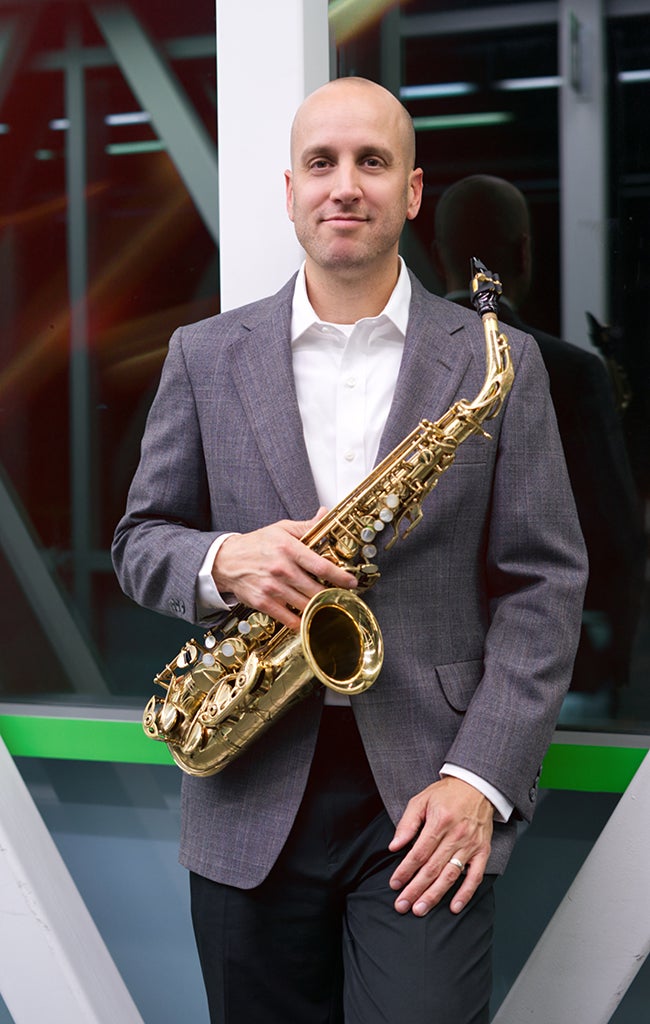 TOM LEMPNER
Applied Faculty – Saxophone
Music and Communication Building, Room 421
tlempner@yahoo.com
Tom is a member of the music faculty at Cleveland State University, Notre Dame College, and was recently appointed as Saxophone Professor at The College of Wooster. He has previously held faculty positions at the Baldwin-Wallace Conservatory of Music, Lorain County Community College, and Western Reserve Academy. He is a woodwind coach for the Cleveland Institute of Music Cleveland Youth Wind Symphonies and is a teaching artist for CIPC ArtsConnect at Gilmour Academy.
As a Music Therapist, he has worked at the Prentiss Autism Center and has over ten years of experience working with the urban youth population of Cleveland who has severe emotional disturbances. In addition to crisis intervention, re-education, and sanctuary therapeutic models, he is also trained in applied behavioral analysis from the Cleveland Clinic and completed the Child Trauma Academy with Dr. Bruce Perry. Since 2015 Tom has been chosen by ORMACO (Ohio Regional Music Arts and Cultural Outreach) to facilitate annual grant-funded therapeutic music workshops with at-risk youth.
The saxophonist has premiered solo and chamber works of local composers Nicholas Underhill, Geoffrey Peterson, Thomas Janson, John HC Thompson, Andrew Rindfleisch, Michael Leese, Buck McDaniel, Darren Allen, Stephen Stanziano, Kurtis Jeffers, Jack Ballard, Greg D'Alessio, and Jeffrey Quick. He premiered chamber works at the 2018 North American Saxophone Alliance Biennial Conference, and he is currently preparing to premier Geoffrey Peterson's Homage to Donald Erb (for solo baritone saxophone). He has recorded on Palmyra Music, Infinite Number of Sounds, Parousia Digital, for Ludwig Masters Publications, and with Noel Quintana's Latin Crew. His performances include live broadcasts on WCLV Classical 104.9, 90.3 WCPN, WRUW-FM 91.1, WCR-FM 97.1, WJW FOX 8 News In the Morning, as he also has been featured on Ideastream, Cleveland Ovations, The Hazel Chapman Show, and Positively Cleveland. Tom performs locally as a member of Cleveland Winds, Akron Symphonic Winds, Ekklésia Reed Quintet, Canton Comic Opera Company, Neo-Tessares Saxophone Quartet, Night Owls, Powerhouse 5, NEO Dixie, Sarata & Lempner Duo, Trepanning Trio, MT Fraze, Hexapod, and is host of the experimental project Inquiries Into Sound.
Tom earned a Masters of Music degree at Kent State University where he was awarded the Walter Watson Jazz Award, Outstanding Soloist at Elmhurst Jazz Festival, and Winner of the Graduate Student Soloists Competition. He also earned a double Bachelors degree in Music Therapy and Music Performance at the Baldwin-Wallace College-Conservatory of Music, a Diploma from the Armed Forces School of Music, and is a U.S. Army Veteran with various awards and decorations.
Tom Lempner is a Conn-Selmer Performing Artist and an endorsing artist for Air Revelation.