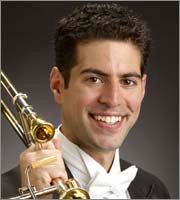 Shachar Israel
Applied Faculty, Trombone
Music & Communication Building, Room 451

Shachar Israel joined the Cleveland Orchestra as assistant principal trombone during the 2009 Blossom Festival season.  Preciously, he was the principal trombone of the Hartford Symphony Orchestra.  From 2004 to 2008, Mr. Israel was the principal trombone of the Haddonfield Symphony.  He has performed in the Verbier and the Spoleto Festival, and in 2008 won the Lewis Van Haney Philharmonic Prize Tenor Trombone Competition.  He has been a guest of the Canadian Brass, with whom he has also recorded, and has been a soloist with the New York Jupiter Symphony Players.  Mr. Israel earned a bachelor's degree from Curtis Institute of Music, where he studied with Nitzan Haroz.  Other teachers,  Joseph Alessi, Mark Lawrence, Mitch Ross and Micha Davis.
Photo by Roger Mastroianni
Start date 8/30/2010