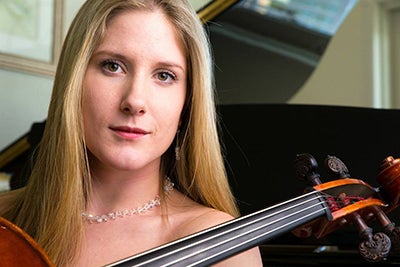 Elizabeth H. Zadinsky
Applied Faculty, Cello

Music & Communication Building, Room 332
216.687.5040
e.howse@csuohio.edu

Elizabeth Zadinsky earned her Master of Music degree in Cello Performance from Cleveland State University in the spring of 2015. During her two years of studying at CSU, she was a Graduate Assistant to Alan Harrell, a cellist in The Cleveland Orchestra. Prior to her time in Cleveland, Mrs. Zadinsky received a Bachelor of Music in Cello Performance from the Jacobs School of Music at Indiana University in 2012 and also a Performance Diploma from IU in 2013. During her time in Bloomington, she studied with Peter Stumpf, the former Principal Cellist of the Los Angeles Philharmonic. Elizabeth had the opportunity to study chamber music with the Pacifica Quartet, Lawrence Hurst, and Yael Weiss at IU. Before Elizabeth entered college, she studied with the Assistant Principal Cellist of the National Symphony Orchestra, Glenn Garlick.
Currently, Mrs. Zadinsky plays frequently with the Cleveland Philharmonic, the Chagrin Falls Studio Orchestra, and teaches privately in Cleveland's Little Italy neighborhood. Starting in 2009, Mrs. Zadinsky regularly played with many orchestras in Indiana, including the Columbus Philharmonic, Carmel Symphony Orchestra, and the Terre Haute Symphony Orchestra. From 2011-2013, she obtained contracted positions with both the Terre Haute Symphony Orchestra and Columbus Philharmonic. In 2010, Elizabeth went on a five-week concert tour of China with the World Orchestra under Maestro Josep Vicent. In 2007, she was Principal Cellist at Eastern Music Festival. Elizabeth has performed the Saint-Saens Cello Concerto No. 1 with the Chesapeake Youth Symphony Orchestra.