All of the challenges will make you discover things about yourself that you never really knew. – CICELY TYSON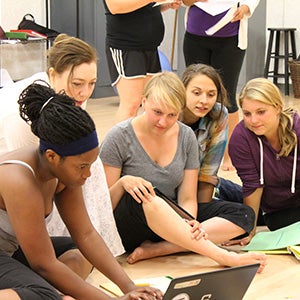 Theatre scholarships recognize exceptional talent and achievement within the department. Scroll down for guidelines. DEADLINE for new and transfer theatre students for Spring 2024 is January 14, 2024.
Purpose and Criteria for Theatre Scholarships
Scholarships are available in Acting, Directing, Design/Technology, Academics, and Department Service/Artistic Excellence, as well as other focused categories.

Questions may be directed to Holly Holsinger, 216-523-7420 or h.holsinger@csuohio.edu.

Click here for 2024 New and Transfer Theatre Student APPLICATION.
DUE JANUARY 14, 2024.

BASIC THEATRE SCHOLARSHIP INFO FOR APPLICATIONS
Acting Scholarship
Applicants will perform one monologue totaling no more than 2 minutes.
Directing Scholarship
Applicants must present an overall production concept for a play of their choice. Presentations must be no more than 5 minutes in length.
Design/Tech Scholarship
Applicants must present a design concept, portfolio, technical project, or prompt book. Presentations must be no more than 5 minutes in length.

Academic Scholarship
Applicants must submit a paper on any theatre subject, minimum three pages, with the application. Minimum 3.5 GPA required.
Each application also contains these questions, which must be submitted with resume and the APPLICATION:

Include a theatre resume, and answers to the following questions with your application.
 What do you feel you bring or might bring to CSU's Theatre Program?
 What do you feel CSU's Theatre Program has to offer you?
 Some scholarships require a special interest in Directing, Theatre Management or Theatre Education. If that is you, please give us more information about your interests and goals.
-----------------------------------
AWARDED IN THE FALL - 
CSU Fine Arts Scholarships, Cleveland Play House Scholarships, and Betty Walls Waetjen Theatre Arts Endowment are all awarded annually based on merit in the following areas: Acting, Directing, Academic Achievement, Design/Technical Theatre, and Departmental Service/Artistic Excellence. Scholarship awards range from $1000-$3000. (Some scholarships may be renewable per semester.)
Departmental Service and Artistic Excellence Scholarship
Applicants in this category give generously of their time to the department. Applicants will submit a video detailing their activities.
OTHER SCHOLARSHIPS awarded by the Scholarship Committee / Faculty and Staff
Reuben & Dorothy Silver Endowed Scholarship in Theatre - Awarded on an annual basis to eligible Theatre majors and minors upon consultation with and recommendation by the faculty of the Department of Theatre and Dance. Students become eligible for the award after having been a Theatre major or minor for at least two semesters. They must also have earned a cumulative GPA of at least 2.5

and have compiled a record of outstanding service to the department. The scholarship amount is variable.
 

Jean Smith Conrad Memorial Scholarship in Theatre - $1,000.00. Scholarship Requirements: Enrolled as an undergraduate while the scholarship is utilized. Rising junior or senior with at least one full year remaining of education. Awarded in the spring semester for the following full year. Strong creative/professional potential. Minimum 3.0 GPA. Financial need may be considered, but is not required.

The Tony Weinert Theatre Scholarship Fund – Amount varies annually
Applicants must be enrolled full-time at Cleveland State University, shall be rising Junior or Senior status students, and shall have declared a Theatre major. Applicants must have a minimum cumulative undergraduate GPA of 2.5.  Applicants shall demonstrate interest, ability, or talent in acting or directing, or set design as determined by department faculty; Applicants shall demonstrate financial need. Preference shall be given to applicants that are graduates of the Cleveland Metropolitan School District or Lakewood School District.

The Cutietta Scholarship - $1,000.00. Recipients must be enrolled at Cleveland State University as full-time undergraduate students in good standing, pursuing a degree in the Performing Arts; The scholarship is intended for rising junior or senior-status students;

Scholarship recipients must demonstrate financial need; Preference shall be given to students who demonstrate strong creative or professional potential in the opinion of the faculty. This scholarship is available for theatre students in fall of odd years. Next available for Theatre in Fall 2023.
 

W. Benoy Joseph Endowed Scholarship for Music and Theatre - $1,200.00. This scholarship will be awarded in the fall semester to a senior. The scholarship will alternate between Theatre (even years) and Music (odd years). The Scholarship will be given during the fall semester to a recipient who represents the following: Undergraduate senior majoring in music or theatre within two semesters of graduation. Has demonstrated financial need. Has a minimum 2.5 GPA. Strong preference for a student pursuing a career interest in the marketing or management of the Arts. Next available for Theatre in Fall 2024.
Questions about Theatre Scholarships may be directed to Holly Holsinger,
216-523-7420 or h.holsinger@csuohio.edu