Posted on April 7, 2023 at 10:08 AM, updated April 7, 2023 at 10:14 AM Print
"Follow Your Curiosity" 
Dr. Olivia Pethtel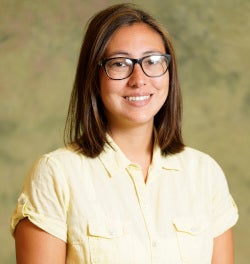 This week's Friday Focus spotlights Dr. Olivia Pethtel, Assistant College Lecturer in the Department of Psychology. Prior to joining to joining our faculty in Fall 2019, Dr. Pethel served as an Assistant Professor in the Department of Psychology at St. Francis University in Pennsylvania. Dr. Pethtel was drawn to return to her Ohio roots and focus more on her passion for teaching. Dr. Pethtel first generated her interest in psychology during her high school years, which prompted her to hone her skills and interests as an undergraduate at the University of South Carolina and pursue a PhD in Developmental Psychology (with and Adult Development and Aging specialization) at BGSU. Dr. Pethtel is an active faculty member in the department, serving in a variety of capacities, including her wide breadth of teaching expertise. Dr. Pethtel serves as a member of the Adult Development and Aging PhD program, the Undergraduate Program Committee, and the Equity in Psychology and Inclusion for all Committee (EPIC). Dr. Pethtel has also been active with student research mentorship, with on key upcoming study examining developmental trajectories in PTSD symptomology. When not working, you will find Dr. Pethtel crushing it as lead vocalist and guitarist of local rock band LibCor (you can find a write up about her and her band in an August 2022 issue of Cleveland Scene).