Posted: 11/27/2023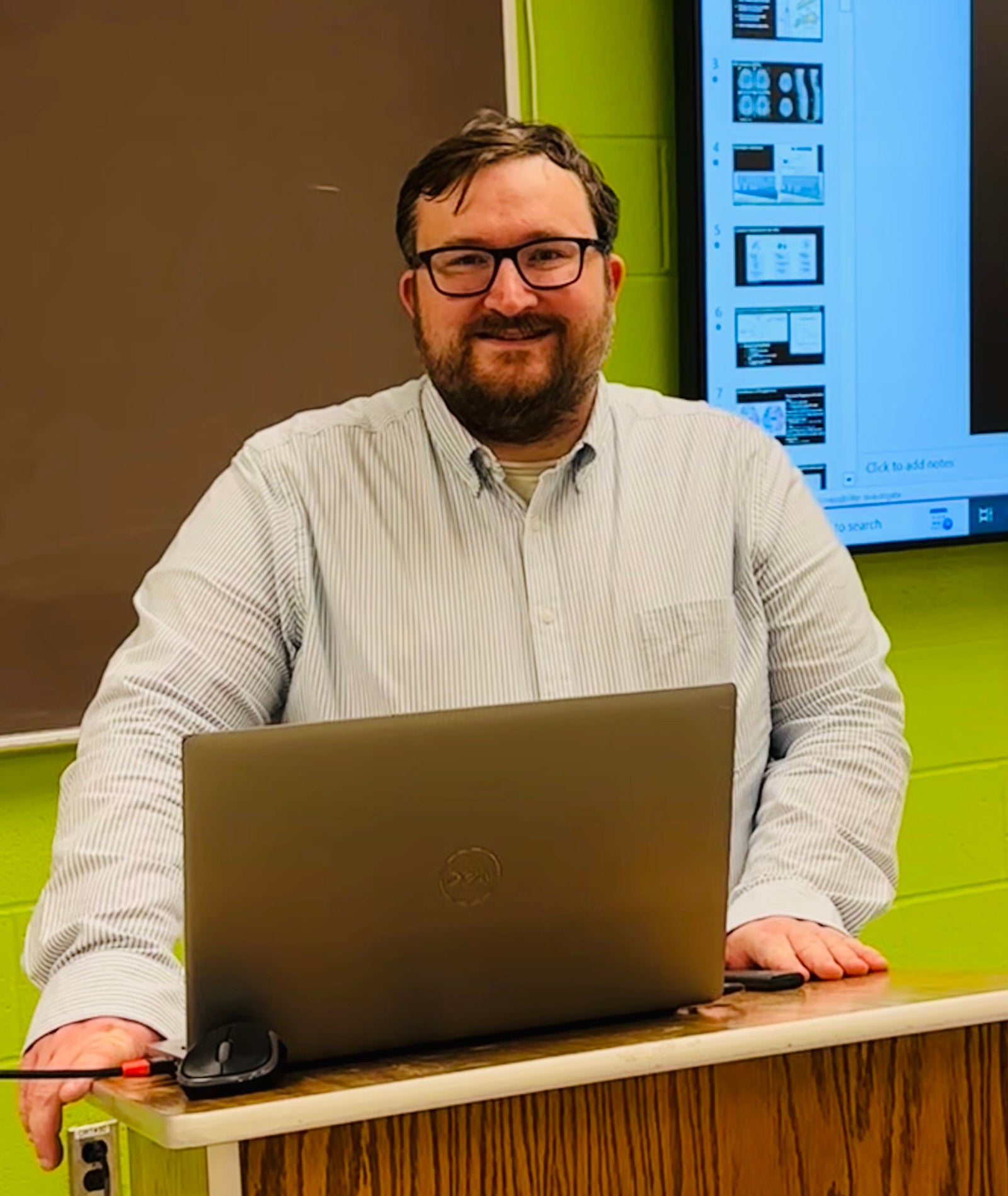 O

n November 16, 2023, our Regulatory Biology Ph.D. candidate, Brandon Smith, successfully defended his Ph.D. thesis. His thesis was entitled "Protective Role of Interferon Gamma in Astrocytes during Chronic Autoimmunity." His thesis work was performed in the laboratory of Dr Jessica Williams, Department of Neurosciences, Lerner Research Institute, Cleveland Clinic in CSU's Regulatory Biology Ph.D. program. 

What's next for Brandon? Brandon will take up a post-doctoral position in Dr. Williams's laboratory at the Cleveland Clinic.

Congratulations Brandon!
Posted: 10/17/2023
Congratulations to Jillian and Abigail! 
 
Following their graduation with their Ph.D. in Clinical Bioanalytical Chemistry from the Department of Chemistry at CSU in Spring 2024, two of our CD-Cavs scholars, Jillian Kodger (left) and Abigail Ansah-Zame (right), have been accepted into prestigious Clinical Chemistry Fellowship programs - 2-year program accredited by the Commission on Accreditation in Clinical Chemistry (ComACC). They will start their fellowships in July 2024. 
Abby will join the CC fellowship program at the University of Virginia - the program focuses on an in-depth study of laboratory medicine with emphasis in clinical chemistry, laboratory management, toxicology, laboratory informatics, hematology and evidence-based laboratory - to equip fellows to sit for the American Board of Clinical Chemistry exam and become laboratory directors.
Jillian has been accepted into the CC Fellowship at Yale: it includes 6-months of clinical training and 6-months of protected research time in year one. In year 2, she'll pursue advanced clinical rotations followed by 6-months of graduated responsibilities. She will also have opportunities to conduct translational research through the Biomarker Translation Laboratory and the Program of Applied Translational Research at Yale. Like Abby, after the completion of her fellowship, she will sit for the board exams to become a medical director.
Congratulations!! 
Posted: 9/1/2023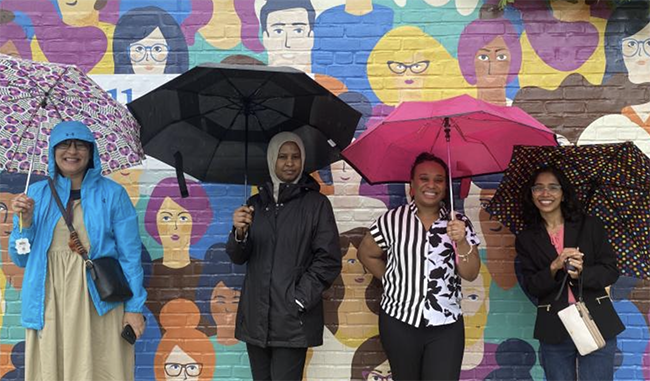 Hala E Osman, Ph.D. CD-Cavs alumna (second from left) was selected for the 2023 cohort of the "Future Faculty Fellows" a week-long workshop program hosted by the Flora Stone Mather Center for Women at Case Western Reserve University.
Posted: 6/5/2023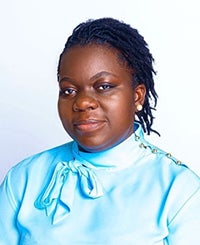 CD-Cavs scholar, Abigail Ansah-Zame, a student in Clinical-Bioanalytical Chemistry - a joint PhD program with the Cleveland Clinic -  was selected as a SYCL travel grant recipient in the amount of $1000 for the 2023 annual Scientific Conference of the American Association of Clinical Chemistry AACC) to be held in Anaheim, California.
AACC's Society for Young Clinical Laboratorians (SYCL) is a community of Early career laboratorian that provide mentorship, networking, programming and recognition opportunities for AACC members younger than age 40 years.
This Travel Grant will reimburse $1000 of conference expenses with complimentary registration for both the conference and SYCL workshop which is held a day before the conference.
Congratulations Abby!
Posted: 4/17/2023
S

INCERE CONGRATULATIONS

 

to two of our CD-Cavs Scholars - Abby and Jillian! Each was awarded a 2023 

CSU Graduate Student Research Award!

 

 





Abigail Ansah-Zame


College of Arts and Sciences, Department of Chemistry
Investigating the Role of RNase L in Metabolic Syndrome

Jillian Kodger
College of Arts and Sciences, Department of Chemistry
Investigation of Cardiac Metabolism and Antioxidant Intervention in Barth Syndrome

For more information on this award, please click here.
Posted: 10/31/2022
Organized by Dr. Jason Ross, manager of LRI Graduate student programs, all five of our CD-Cavs scholars, Abby, Brandon, Richard, Jessi and Jill, enjoyed a visit on October 25 to the Lerner Research Institute, to visit labs in departments of Cancer Biology, Genomic Medicine, Neurosciences and Molecular Medicine. After lunch, the Director of shared laboratory resources, Dr. Sean Kessler toured the scholars through the Proteomics and Metabolomics Core and Medical Devices Solutions. A great visit was had by all! 
Posted: 5/9/2022

CD-Cavs scholar, and recent graduate, Dr. Hala Osman, has been officially appointed as a Postdoctoral Scholar in the School of Medicine, Department of Medicine at Metrohealth at Case Western Reserve University! She started this new position on May 2, 2022.
Posted: 5/9/2022

CD-Cavs scholar Brandon Smith presented his research at CSU's College of Sciences and Health Professions (COSHP) Research Day on April 22nd.
Posted: 2/8/2022
"I am very pleased to share with you that I received my PhD degree in Applied Biomedical Engineering. So thrilled and honored to be a recipient of the Cross-Disciplinary Cardiovascular Sciences T32 Training Grant at Cleveland State University!
"My dissertation titled: Quantifying the Effect of Exercise- Interventions on Gait Stability in Post Stroke Population. I find myself interested in research being conducted in an interdisciplinary environment that focuses on building the bridge between the clinical and engineering worlds with an innovative approach to solving critical problems.
"I plan to follow a traditional scientific career path, first as a postdoctoral fellow and then as a research scientist executing biomechanical systems integration and evaluation in the cardio-vascular field and its related research areas.
"I would like to acknowledge the funding that supported the research in my dissertation. This research was funded by grants from the American Heart Association (18IPA34170316) and the National Institutes of Health (T32HL150389), with additional support from Graduate Student Research Awards from Cleveland State University.
"I would like to thank my research advisor Dr. Debbie Espy for guiding me in this challenging research project. I learned so much from her both professionally and personally. 
"My heartfelt thanks to research CO-advisor Dr. van den Bogert, who has helped and supported me tremendously. I would like to acknowledge his mentorship gratefully and sincerely during my graduate education.
"Also wanted to thank my committee members for providing me with many different perspectives to my research: Dr. Chandrasekhar  Kothapalli, Dr. Stephen Slane, and Dr. Ann Reinthal."
Hala E Osman
Doctor of Philosophy in Applied Biomedical  Engineering
December 2021