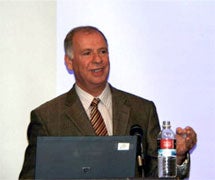 The Land where the East begins
Professor Božidar Jezernik at CSU
The lecture of the Slovenian academic, ethnologist and cultural anthropologist, former dean and full professor of the Faculty of Arts at the University of Ljubljana and former chairperson of the Ethnology Department, Dr. Božidar Jezernik was held in the Main Classroom of the Cleveland State University. The auditorium was nearly full for the professor's lecture about his historical views on the elusive name and description of the region called Balkan. He described the cultural and political surroundings of the name and showed the connotations that came together with the denotative meaning of the word, which changed greatly throughout history. Of course the denotative meaning varied hand in hand with the positive or negative attitude of the historians, politicians and others towards the Balkans. The lecture was superbly supported by the depicting postcards from the professor's own collection, through which the audience could better comprehend the complexity of this topic.
Click here for more information.
Photo: Professor Božidar Jezernik