SEPTEMBER 20 TO NOVEMBER 26, 2022
24TH ROBERT THÜRMER PEOPLE'S ART SHOW
Our signature event returns this fall! The 24th Robert Thürmer People's Art Show is a non-juried, uncensored exhibition, celebrating diversity and imagination. This biennial exhibit was renamed in perpetuity to acknowledge the contributions and 30 years of service of former gallery director, Robert Thürmer. The exhibition is open to everyone and all entries will be exhibited.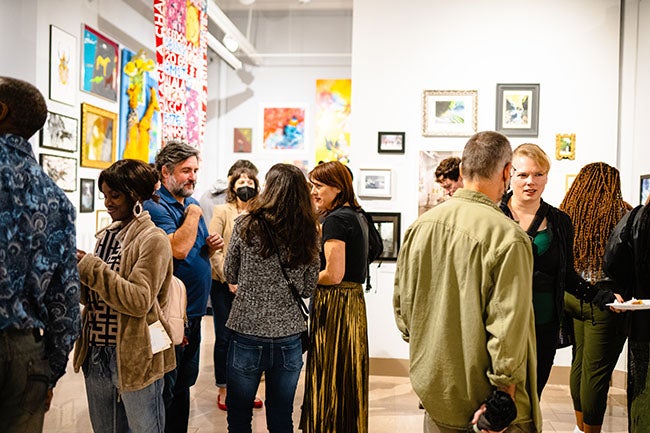 PEOPLE'S ART SHOW ARTWORK PICK-UP 
Tuesday, November 29 – Saturday, December 3
11:00 am – 4:00 pm
Works not picked up will be stored at the owner's risk.
PEOPLE'S ART SHOW STAFF PICKS
---
Featured Artist - William Price
Violin, All metal donated parts from automotive industry, 2022
Staff Member - Kendall Braun, Gallery Attendant
Kendall Braun is a sophomore at CSU and is majoring in music therapy. Kendall has worked at the Galleries at CSU since the beginning of fall semester this year. She is a recipient of the President's list award for both fall and spring semesters last year. Her favorite subject at CSU is jazz and pop music theory.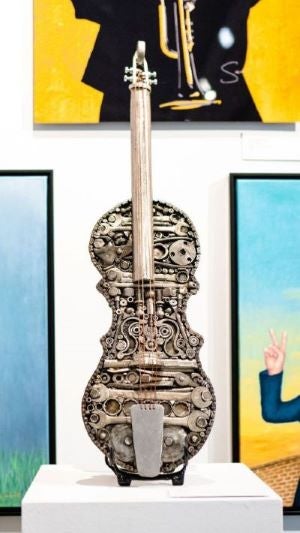 This sculpture is one of my favorite pieces in the gallery. Being a music major with a passion for art, I was naturally drawn to the pieces in this show that contained a musical theme. I remember when I first saw this sculpture during drop-off week and could not stop staring at it. Even now every time I walk by the violin, I can't help but stop to admire the construction and symmetry. I love that the piece honors music in another form of art. Seeing all the pieces that make up the sculpture makes me think of how intricate making music is despite what some instruments look like on the outside. Music is a combination of so many factors and that really reflects in this piece. - Kendall Braun
---
Featured Artist - Grant Menough
Sometimes I Get Butterflies, Oil on panel, 2020
Staff Member - Ashley Sandy, Gallery Attendant
Ashley Sandy is a Senior at CSU and is majoring in studio art with a minor in art history. Ashley has worked at the Galleries at CSU since the summer of 2021. She is the recipient of the best in sculpture award from the CSU student art show of 2021.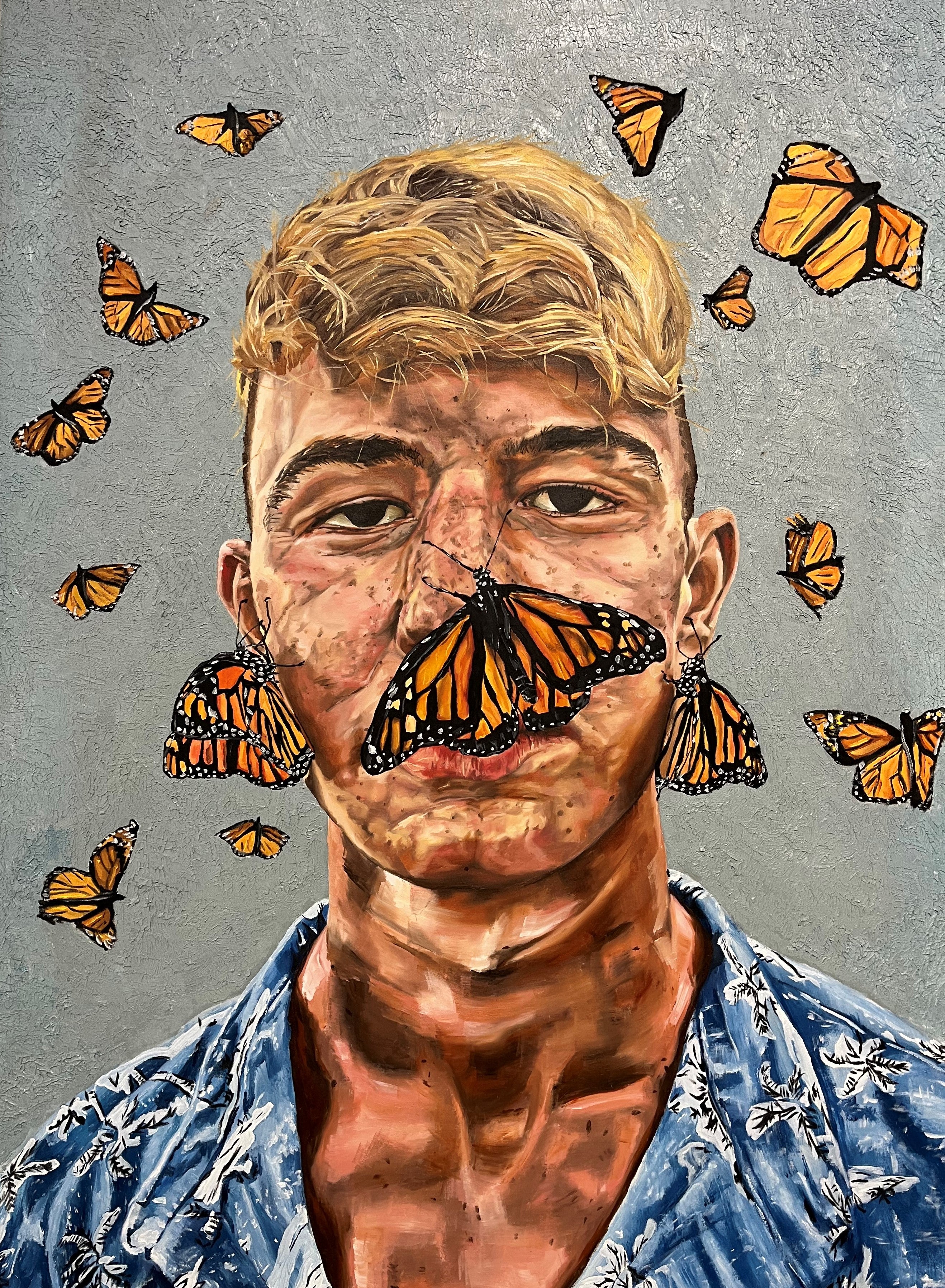 This large scale painting really captures my attention each time I walk past it. Despite my concentration as a studio student in sculpture, the intricate portrayal of the face as well as the sheer detail on the butterflies catch my attention each time. This painting has texture both literally and visually. There is light impasto in the blue background, and although the image itself is flat, the way in which the paint is manipulated almost makes it feel as though you can watch the butterflies fluttering about, touch the man's hair, and feel his stare. It's almost as if there is a silent understanding between the gaze of the viewer and the man in the painting. It's a painting that is easy to relate to as well, seeing as we all at some point have gotten the feelings of butterflies, and may have been unwilling to talk about it or struggle to talk about it whether it be because of a romance, friends, or even being frightened to be on a stage. It makes me think about the things that are left unsaid due to nervousness, missed opportunities that arise because of those butterflies that make us shield our mouths when they appear. At least that's my interpretation of it. The mood this painting exudes coupled with the expression that the man has is what really draws me into this piece of art every time I'm in the gallery. - Ashley Sandy
 
---
Featured Artist - Izabel D. (age 5)
The Pinky Owl, 2020
Staff Member - Tenzin Lucas, Gallery Attendant
Tenzin Lucas is a senior at CSU and is majoring in Art History and minoring in Philosophy, Comparative Religion, History, Medieval Studies, Classical Studies, and Women's and Gender Studies. Tenzin has worked at the Galleries at CSU since winter of 2021. They are a member of The National Society of Leadership and Success (NSLS) and a recipient of the Presidents list for fall and spring of last year. Their favorite subject at CSU is philosophy.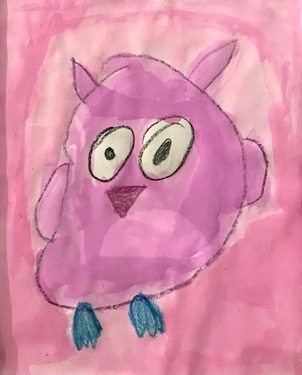 When broached with the question: "What is art?" a myriad of answers and interpretations spring to mind; Still, the claim that art makes one FEEL something seems to be held as universal and is, in a sense, at the very root of the question itself. Words can hardly describe the feelings elicited within me when I gaze upon The Pinky Owl by Izabel D. Of all the works in the gallery The Pinky Owl has been, and continues to be, the piece that I enjoy most and one that has had a lasting staying power over me. For a piece to conjure such joy and elation consistently, for me to smile after seeing it after all of this time, without exhaustion, is a truly a remarkable feat. It is the piece that moves me most greatly. In the eyes of The Pinky Owl I feel something akin to true beauty. In the eyes of The Pinky Owl I feel something akin to God itself. - Tenzin Lucas
---
Featured Artist - JoAnn Giordano
Mexico Magic II, Paper collage, 2020
Staff Member - Emma Adams, Gallery Attendant, Galleries at CSU
Emma Adams is a senior at CSU and is majoring in Graphic Design. Emma has worked at the Galleries at CSU since August 2021. She is a member of SOFA and the recipient of President's List Spring 2022. Her favorite subject at CSU is Studio Art.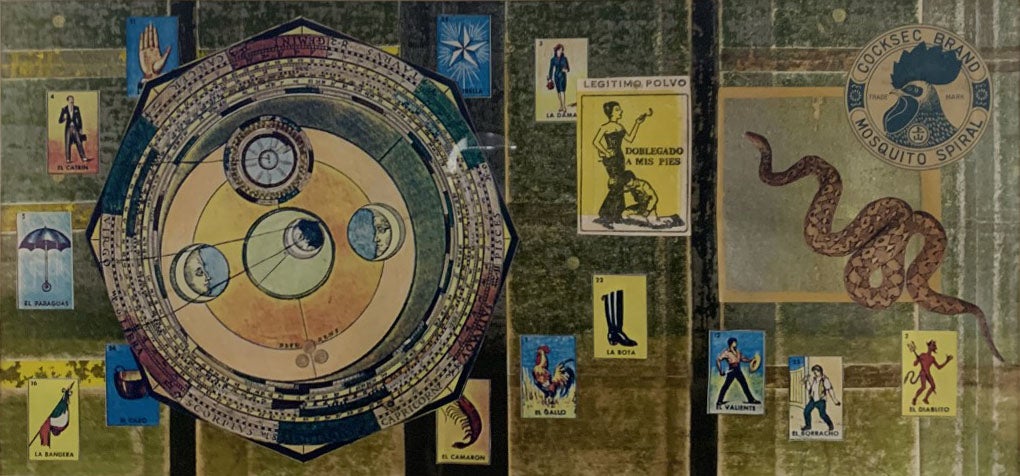 This is one of my favorite pieces in The People's Art Show. I like the earthy and dark color scheme; it matches the mystic subject matter. Each element draws your eye around the page, and you notice something new each time you look at it. I also enjoy the illustration style; it has an older, whimsical feel. - Emma Adams
---
Featured Artist - Mark Patrick
The Passing Storm, Pastel, 2021
Staff Member - Kit Hannum, Gallery Attendant, Galleries at CSU
Kit Hannum is a senior at CSU and is majoring in Studio Art with a minor in Art History. Kit has worked as the registrar's intern since Fall 2021 and also works as a gallery attendant. She is the Vice President of the Student Organization of Fine Arts (SOFA) and the recipient of the second place Alumni Donor Award from this past spring's Student Art Show. Her favorite subject at CSU is painting.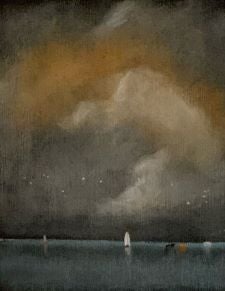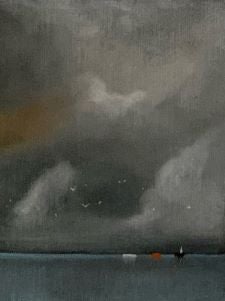 This work by Mark Patrick was particularly striking to me even before we finished hanging up the show. The pastel landscapes reside as a pair, both using a moody color palette of blues and grays and an atmospheric style of blending. At first glance, I appreciate how they are almost abstracted but upon closer examination, tiny details reward the viewer. The landscapes sit still and peaceful and make a great addition to this year's People's Art Show. - Kit Hannum
---
Featured Artist - Ka'Amun Dara
Irregularly Scheduled Programming, Oil on wood panel, 2021
Staff Member - Michelle Strong, Administrative Coordinator, Galleries at CSU
Michelle is a higher education professional who held various administrative positions at Ohio University, Loyola University Chicago and Cleveland State University before taking on this role at the Galleries at CSU. As a CSU alumna and musician, she has been immersed in the art and music scene in Cleveland for many years and feels truly at home at The Galleries.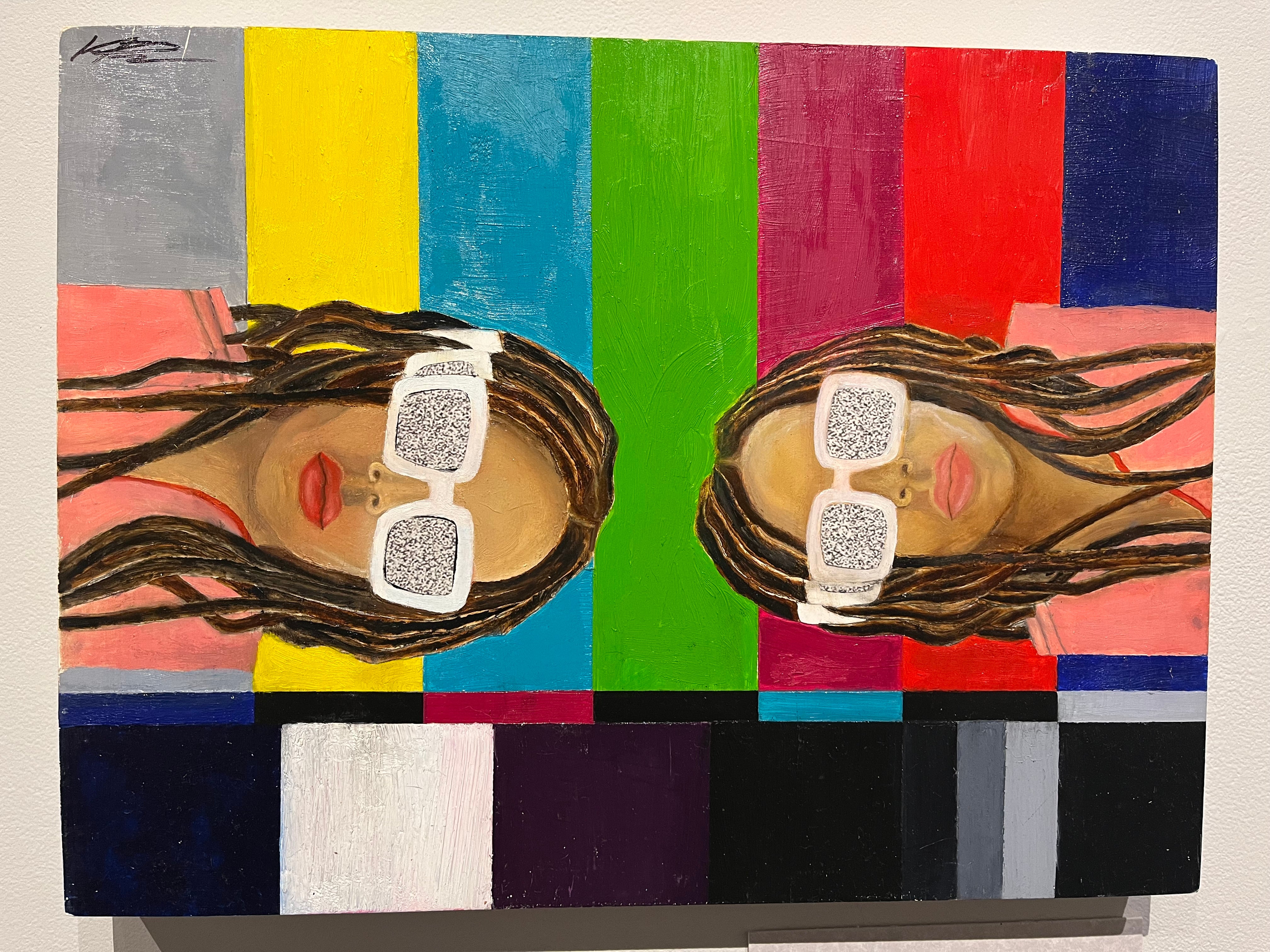 Every time I walk through the gallery a piece of art will catch my eye that I hadn't noticed before. This is what I love about the The People's Art Show. There is so much talent here and so much to see. Ka'Amun Dara's piece is one such example. This painting sparks curiosity which is a quality that will draw me in and make me want to spend time with a piece of art. Ka'Amun is a self-taught artist based out of Akron, Ohio. His work was recently on display at the East Ave Market in the "MENtor" exhibition which featured artwork by local fathers, brothers and sons who are making a difference in their communities. - Michelle, The Galleries at CSU
---
Featured Artist - Sharon Collins
View From Flats, Collage, 2022
Staff Member - Kendall Christian, Director, Galleries at CSU Kendall Christian is a museum/gallery professional and currently the Director of the Galleries at Cleveland State University since 2019. His 35-year career began at the Library of Congress Office of Interpretive Programs and Exhibits and has led him to positions at the Rock and Roll Hall of Fame and Museum, The Las Vegas Springs Preserve, and the Allen Memorial Art Museum at Oberlin College.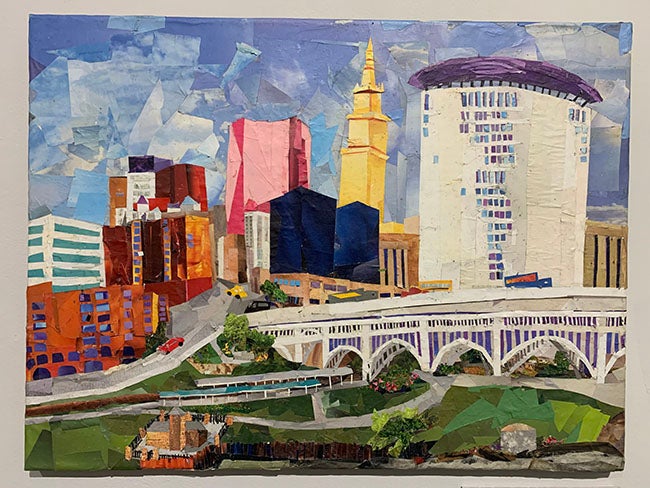 I was immediately drawn to this collage as I was laying out the 409 works of art that were submitted for the 24th Robert Thürmer People's Art Show. My wife is from the Cleveland area, and we often collect artworks that depict all-things Cleveland. This small collage is skillfully made and beautifully captures the view looking East from the Flats. I was fortunate to meet the artist and am excited to see more of her work. Sharon is a member of the Hillcrest Art Club, which is hosting an art show and sale from October 2 through 28 at the Beachwood County Library, 25501 Shaker Blvd., Beachwood, Ohio. Don't miss this opportunity to view or purchase her works. - Kendall, The Galleries at CSU
---
Gallery Viewing Hours:
Sunday and Monday: Closed
Tuesday-Saturday: 12:00 noon to 5:00 pm
Closed on University Holidays
---
The Galleries at CSU are located at 1307 EUCLID AVENUE, in the historic Cowell and Hubbard building, at the corner of East 13th Street, in the heart of the recently launched Arts Campus at Playhouse Square. The elegant, newly restored gallery venue features three distinct exhibition spaces, a multi-purpose media room, a meeting and classroom space, and a study area, as well as state-of-the-art lighting, surround sound, and new-media capabilities.
---