now at The Galleries at CSU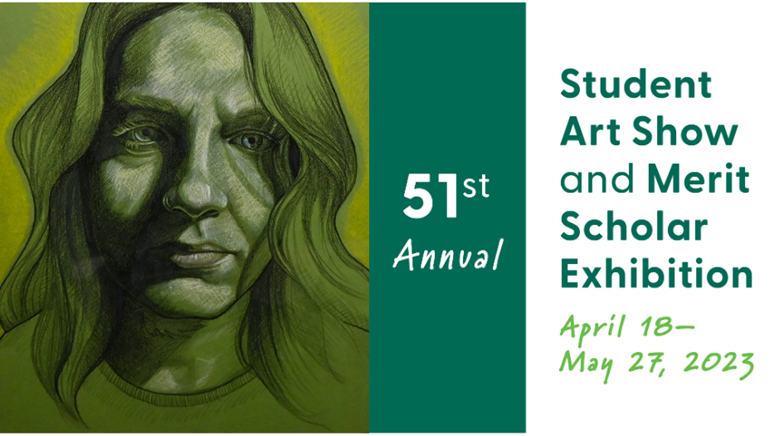 Join us at the Galleries at CSU as we present our annual springtime exhibition and rite of passage. For many CSU students, this juried art show is a multitude of firsts – first exposure to the professional world of galleries, first public exhibition, first critique by outside judges and first artwork sale. We are thrilled to showcase extraordinary artistic talent across disciplines. The exhibition is free and open to the public and some artwork will be available for purchase. 
---
Congratulations to this year's award winners:
Best in Drawing $100 – Evan Elchert, The Politician
Best in Graphic Design $100 – Aminah Wyatt, Impact Your Life. Vote.
Graphic Design Honorable Mention $75 – Michael Durkin, Just Ask
Best in Ceramics $100 – Sarah Murray, Rock and Roll
Ceramics Honorable Mention $75 – Aislinn Hall, Mushroom Man
Best in Painting $100 – Hannah Mosley, Finding Hunter
Best in Photography $100 – Ruwaidah Barhoum, Simple Connection
Best in Printmaking $100 – Kit Hannum, Self-Portrait
Best in Sculpture $100 – Duncan Godwin, Repurposed Misconception
Best in Video-Animation $100 – Aminah Wyatt, Hidden Figures
Best in Merit Scholar $100 – Darci Gumins-Paulett
Merit Scholar Honorable Mention $75 – Erin McHugh
Best in Project 60 – Jim Triner, Continuous Love
The President's Award $200 – Premkumar Donthula, Perspective View, Design Your Own Life, Addiction to Mobile and Love
Alumni Donor Award $300 – Jack Ovalles, Untitled II
Robert Spademan Best-in-Show Award $500 – Jenna Mohan, Untitled III
Live Music at The Galleries:
Max Hyde-Perry's Graduate Music Composition Recital
Thursday, April 27, 5 - 6:30 p.m.
The Galleries at CSU | 1307 Euclid Ave. 
CSU Dance Company and The Galleries Present:
Intimate Lens: Dancing Through Art
Thursday, May 4, 6 - 7:30 p.m.
The Galleries at CSU | 1307 Euclid Ave.
---
Gallery Viewing Hours:
Sunday and Monday: Closed
Tuesday-Saturday: 12:00 noon to 5:00 pm
Closed on University Holidays
---
The Galleries at CSU are located at 1307 EUCLID AVENUE, in the historic Cowell and Hubbard building, at the corner of East 13th Street, in the heart of the Arts Campus at Playhouse Square. This elegant gallery venue features three distinct exhibition spaces, a multi-purpose media room, a meeting and classroom space, and a study area, as well as state-of-the-art lighting, surround sound, and new-media capabilities.
---