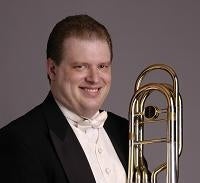 J.c. Sherman
Applied Faculty - Trombone, Tuba and Euphonium
A "Jack of all Brass," J.c. Sherman is one-of-a-kind. As a concert soloist, J.c. has traveled nationally and internationally with his tuba. Regionally, Sherman has performed with every major ensemble in Northeast and North Central Ohio on a full cornucopia of brass instruments. In addition, he performs on his serpent, ophicleide, and other antique instruments throughout the region and nationally.
Formerly the Principal Tubist of Cleveland Opera and currently Principal Tubist of the Firelands Symphony Orchestra, Sherman is an instructor of Tuba & Euphonium at Cleveland State University. He and his students host TubaChristmas Cleveland and Cleveland Tuba-Euphonium Day annually. He performs regularly with the Cleveland POPS and is preparing to celebrate his 20th season with the Blossom Festival Band. As a chamber performer, he's a member of the Heritage Brass Quintet, the NEOTuba Quartet, and co-founder of Olympic Brass and the Cleveland Trombone Collective. A veteran entertainer from SeaWorld of Ohio, he delights in early jazz, performing with The Night Owls, Earlville Jazz Band, The Hot Jazz 7, and the Cleveland Jazz Orchestra. J.c. is the co-founder and General Director of Orchestra 19, Northeast Ohio's new historic performance ensemble featuring concert experiences of the 19th century.
In his workshop, he builds and restores antique instruments and mouthpieces for clients worldwide, while also introducing artists and audiences to his weird and wonderful collection of unusual and historic brass.
J.c. Sherman studied with Ronald T. Bishop (tuba) and Raymond Premru (bass trombone) at the Oberlin Conservatory of Music, and with Dr. James Albrecht at the University of Akron (bass trombone). His "Service Dogs March" and other arrangements are published through LudwigMasters Publications; he lives in Painesville Township, Ohio with his bride and two sons, their two cats, and two shiba-inu dogs.