Posted on September 22, 2023 at 3:05 PM, updated September 22, 2023 at 3:56 PM Print
Cleveland State University's College of Arts and Sciences Shines at Undergraduate Summer Research Poster Session
Cleveland State University's Office of Research hosted its highly anticipated annual Undergraduate Summer Research Poster Session on Thursday, September 21, 2023. This event, a hallmark of academic excellence, showcased the remarkable research endeavors undertaken by our dedicated students and faculty.
"We are CSU!" resonated through the venue as the College of Arts and Sciences, the largest college at the university, made a substantial impact with 25 diverse research groups participating in the event. The enthusiasm and dedication of these groups exemplified the spirit of innovation and inquiry that defines Cleveland State University.
The Undergraduate Summer Research Poster Session serves as a platform for our academic community to present their cutting-edge research and engage in meaningful discussions with peers and experts from various fields. It fosters collaboration, encourages interdisciplinary exploration, and celebrates the pursuit of knowledge.
The event featured a wide array of research topics, ranging from the natural sciences to the humanities, reflecting the College of Arts and Sciences' commitment to providing a holistic education that addresses the multifaceted challenges of today's world.
Dean Andrew Kersten of the College of Arts and Sciences said that this year's poster session "Illustrated the power of hands-on, engaged learning. These students not only conducted cutting-edge research, but they also were able to articulate their methods and findings to a general audience. Their work is already having an impact in their disciplines and in our community."
Cleveland State University extends its gratitude to all participants, attendees, and supporters for making the annual Undergraduate Summer Research Poster Session a resounding success. We look forward to even more groundbreaking research and collaboration in the years to come.
---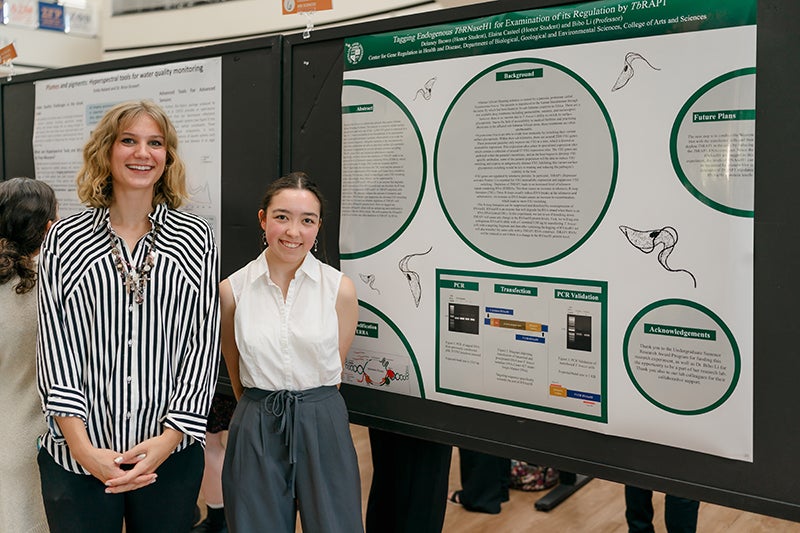 Poster Title: Tagging Endogenous TbRNasH1 for Examination of its Regulation by TbRAP1 By Delaney Brown and Elaina Casteel (Bido Li, Professor)
Photo: Delaney Brown (left) and Elaina Casteel, Arts and Sciences Students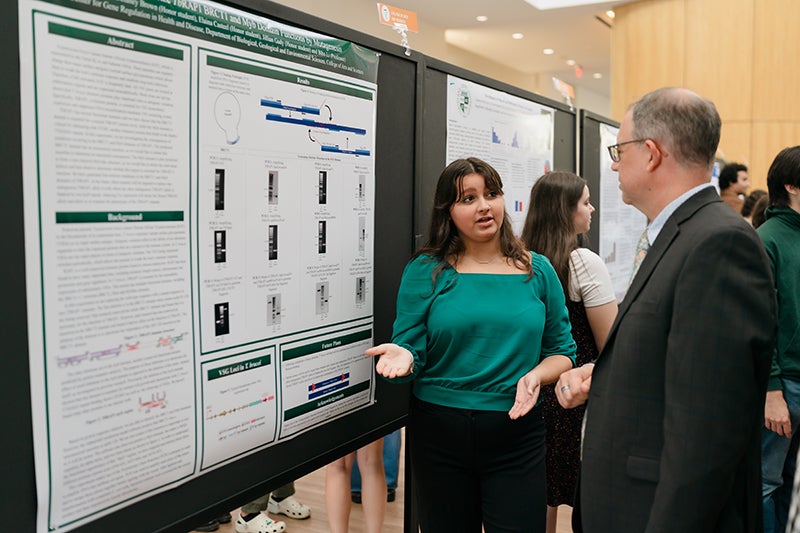 Poster Title: Characterize TbRAP1 BRCT1 and Myb Domain Functions by Mutagenesis By Jillian Grady, Delaney Brown, and Elaina Casteel (Bido Li, Professor)
Photo: Jillian Grady, Arts and Sciences Student, with Dr. Andrew Kersten, Dean of Arts and Sciences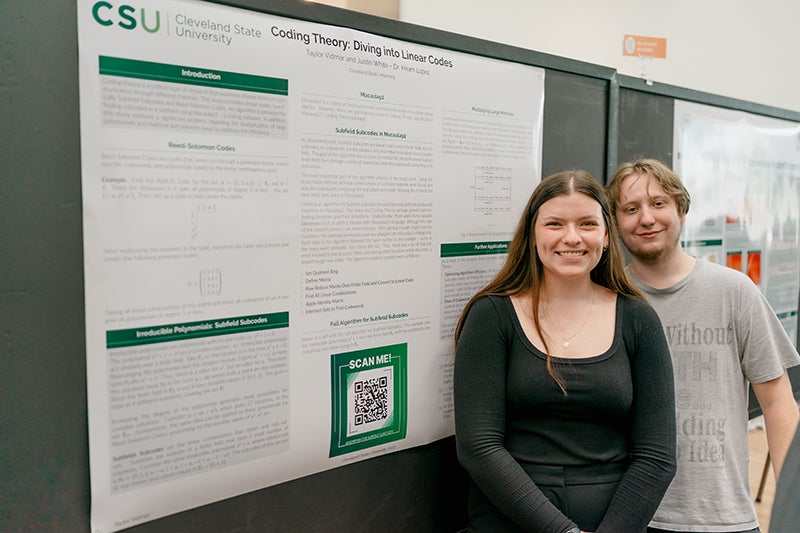 Poster Title: Coding Theory: Diving into Linear Codes By Taylor Vidman and Justin White (Hiram Lopaz)
Photo: Taylor Vidman and Justin White, Arts and Sciences Students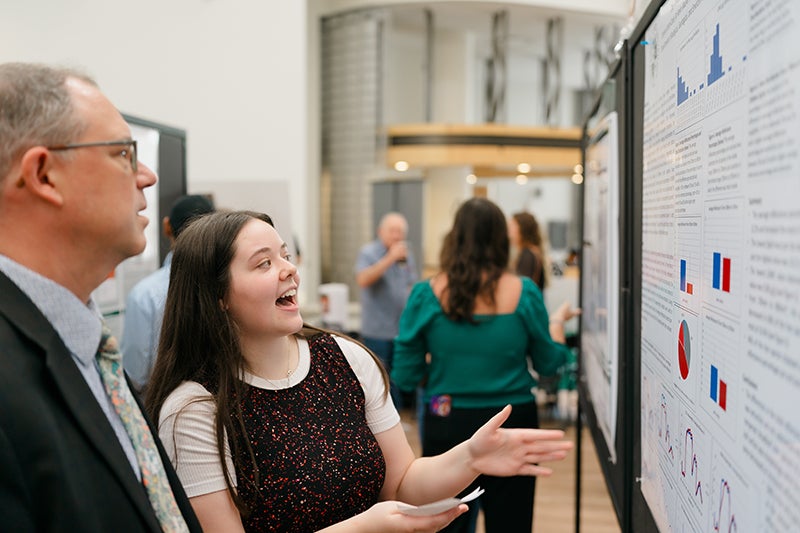 Poster Title: The Influence of Waz on Leaf Relectance in Diverse Tree Species By Cyenna Ulirch (Kevin Mueller, Associate Professor; Brice Grunert, Assistant Professor; Daniel Griffith [Wesleyan University])
Photo: Cyenna Ulirch, Arts and Sciences Student, with Dr. Andrew Kersten, Dean of Arts and Sciences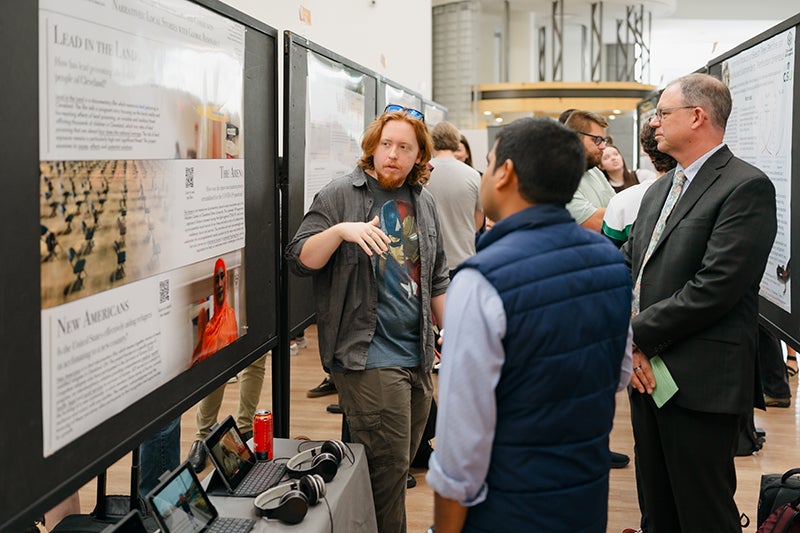 Poster Title: Documentary Storytelling and Community Narrative: Local Stories with Global Resonance By Jonathan Carpenter (Cigdem Slankard, Associate Professor and Director of the School of Film & Media Arts)
Photo: Jonathan Carpenter, Arts and Sciences Student, with Dr. Andrew Kersten, Dean of Arts and Sciences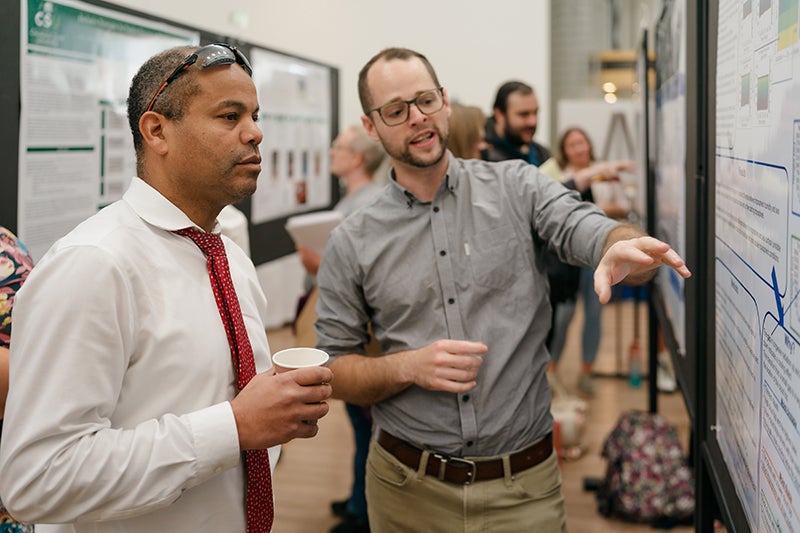 Poster Title: Analysis of Marine Stratocumulus Clouds With and Without a Diurnal Cycle Using Large Eddy Simulations By Jeremiah Green (Thijs Heus, Professor)
Photo: Jeremiah Green, Arts and Sciences Student, with Dr. Mekki Bayachou, Professor and Associate Dean of Arts and Sciences