Posted on October 17, 2023 at 2:06 PM, updated October 17, 2023 at 7:13 PM Print
Congratulations to Jillian and Abigail!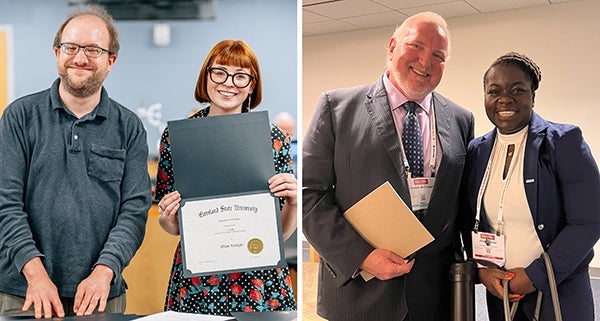 After earning their Ph.D. in Clinical Bioanalytical Chemistry from the Department of Chemistry at CSU in Spring 2024, the College of Arts and Sciences is thrilled to share the remarkable achievements of two of our outstanding CD-Cavs scholars, Jillian Kodger (left) and Abigail Ansah-Zame (right). They've both secured coveted spots in the prestigious Clinical Chemistry Fellowship programs - a 2-year program accredited by the Commission on Accreditation in Clinical Chemistry (ComACC). They will start their fellowships in July 2024.
Abby will embark on her CC Fellowship at the University of Virginia, a program dedicated to a comprehensive exploration of laboratory medicine. It significantly emphasizes clinical chemistry, laboratory management, toxicology, laboratory informatics, hematology, and evidence-based laboratory practices. The goal? Equipping fellows to excel in the American Board of Clinical Chemistry examination and ultimately become accomplished laboratory directors.
Meanwhile, Jillian is set to embark on her own transformative CC Fellowship journey at Yale. In the first year, she'll engage in six months of intensive clinical training, followed by six months of dedicated research time. Year two is equally exciting, as she delves into advanced clinical rotations, culminating in six months of progressively more significant responsibilities. Throughout this journey, she will have the opportunity to engage in translational research through the esteemed Biomarker Translation Laboratory and the Program of Applied Translational Research at Yale. Like Abby, upon completing her fellowship, Jillian will pursue board exams with the aim of becoming a distinguished medical director.
Join us in congratulating these two exceptional individuals on their extraordinary accomplishments! We're incredibly proud of their achievements.