Posted on August 10, 2023 at 10:28 AM, updated August 10, 2023 at 10:59 AM Print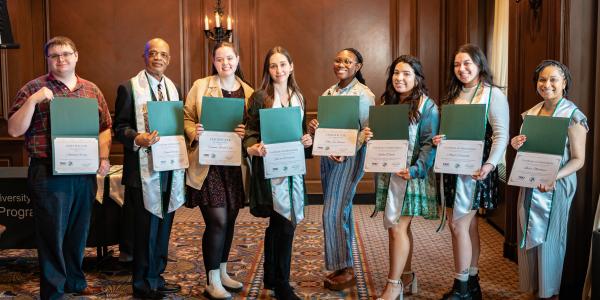 The McNair Scholars Program, a prestigious initiative dedicated to supporting and nurturing top-tier undergraduate students, is thrilled to announce the re-launch of its program for the upcoming academic year. This relaunch is possible due to a 5-year $1,334,460 award the U.S. Department of Education granted to support first-generation, low-income, and minoritized undergraduate students preparing for future doctoral degrees. This award allows us to connect gifted yet underserved students with academically and culturally relevant rigorous research internships, mentorship, and career development programming.
The McNair Scholars Program was established as part of the federal TRIO programs, a group of educational opportunity programs created and governed by the Higher Education Act of 1965 and its subsequent amendments. The McNair Scholars Program is named after the late Dr. Ronald E. McNair, an esteemed African American physicist and NASA astronaut. The program honors his legacy by facilitating access to advanced educational resources for students from historically underrepresented communities. The McNair Scholars Program aims to bridge existing opportunity gaps and diversify academia by increasing the number of students from underserved backgrounds enrolling and graduating from graduate school, especially with Ph.D. degrees.
The program offers comprehensive benefits to selected scholars, including paid-research internships, long-term mentorship from esteemed faculty and staff, and a community of like-minded peers. Scholars will receive personalized guidance to build their graduate school application portfolios, unlock their potential, and prepare for future academic endeavors at their preferred graduate institutions.
Qualifying first-generation students from low-income backgrounds and students from underrepresented minority groups are encouraged to apply to the McNair Scholars Program. The application process starts with a thorough review of academic achievements, leadership potential, and a personal statement outlining the student's vision and goals. Upon selection, scholars will become part of an engaged and supportive community of ambitious individuals committed to personal growth and academic excellence.
To learn more about the McNair Scholars Program and to apply, please visit our website at www.csuohio.edu/mcnair-scholars.
About McNair Scholars Program
The McNair Scholars Program is a highly selective program designed to provide research experience and mentorship to promising undergraduate students planning to pursue Ph.D. degrees. The program aims to empower students from underserved populations to pursue doctoral degrees and excel in their chosen fields to increase diversity in academia and the professorate.
###
About Cleveland State University
Founded in 1964, Cleveland State University is a public research institution that provides a dynamic setting for Engaged Learning. With 17,000-plus students, ten colleges and schools and more than 175 academic programs, CSU was again chosen for 2019 as one of America's best universities by U.S. News & World Report. Find more information at csuohio.edu.