Posted on October 20, 2023 at 12:42 PM, updated October 20, 2023 at 12:45 PM Print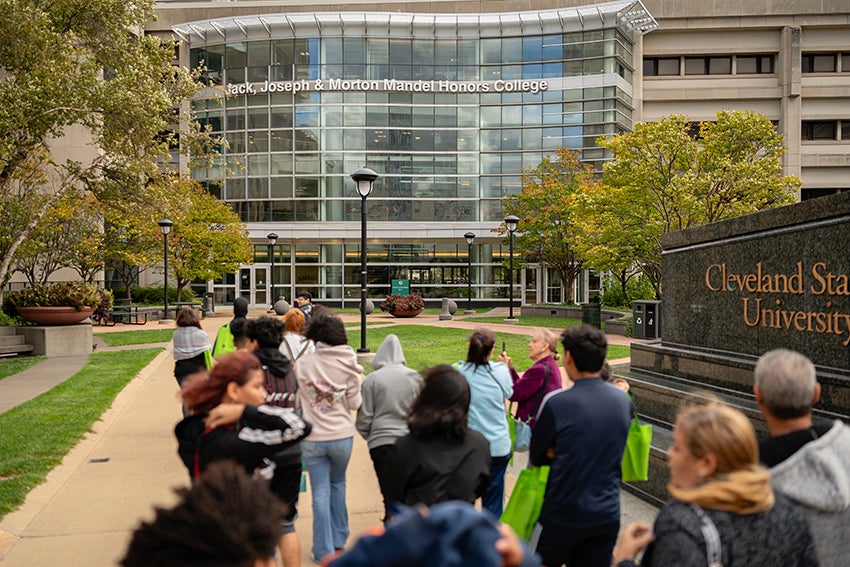 Cleveland State University's College of Arts and Sciences is thrilled to announce the success of Día Familiar, a family-centric event in collaboration with Esperanza. This event marked the first of its kind at Cleveland State on Saturday, October 7, 2023. 
Día Familiar was a unique celebration that brought together the Cleveland Hispanic Community for a day of family fun, culture, and unity. The event was the inaugural edition and exceptionally resonated with the Hispanic Community.
Key Highlights of the Event:
Lunch with a Side of Culture: 

Guests indulged in a delicious lunch with diverse culinary delights representing Hispanic culture and enjoyed a flavorful feast while immersing themselves in the sounds and tastes of the Hispanic world.

Meeting with University Leaders and the Hispanic Community: 

Leaders of Cleveland State University engaged with our vibrant Hispanic Community and celebrated the rich tapestry of experiences that our diverse student body brings to our campus.

Campus Belonging: 

Community partners, teachers, and prospective students got a sneak peek at the student experience at CSU. Besides connecting with faculty, staff, and CSU students, they learned about the student services and resources available to them and their families and enjoyed a bilingual campus tour.

Answered Questions: 

The casual and festive atmosphere of the event encouraged our guests to freely ask questions about admissions, financial aid, academic programs, and campus life. CSU's knowledgeable staff and student representatives were on hand to provide answers and guidance.
In collaboration with Esperanza, Día Familiar proved to be a testament to the vibrant spirit of the Community and the power of unity. 
Due to the event's outstanding success and the enthusiastic response from the Hispanic Community, CSU's College of Arts and Sciences is excited to announce its commitment to hosting Día Familiar again next year. This event is poised to become an annual celebration showcasing Cleveland's diverse cultural landscape, bringing people together in harmony, and showing them how CSU can be part of them.
We extend our heartfelt gratitude to Esperanza and all the attendees, volunteers, and sponsors who made this event successful. Día Familiar reflects our commitment to celebrating cultural richness and providing educational and cultural opportunities for all.