Posted on August 22, 2022 at 10:37 AM, updated August 25, 2022 at 8:39 AM Print
Christine Moravec, PhD, has been named Vice Chair of Research Education, Lerner Research Institute.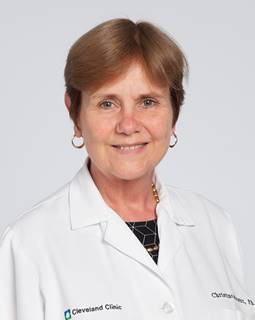 As Vice Chair of Research Education, Dr. Moravec will build upon her keen research education focus to lead an expanded scope of new and innovative educational programs and academic partnerships. Building upon her prior work to benefit those involved with Lerner Research Institute's current graduate and postdoctoral research training and career development programs, Dr. Moravec will work to develop a programmatic strategy for the research workforce of the future.  
Her responsibilities will include: 
Leading the Education work stream for the Cleveland Clinic and IBM Discovery Accelerator partnership. 
Representing Cleveland Clinic for research and science career pipeline programs with universities in the Innovation District partnership with Jobs Ohio. 
Seeking new partnerships for innovative science undergraduate and PhD programs. 
Developing science education partnerships within our communities and local schools. 
Teaming up with LRI's Center for Clinical Research to facilitate the spectrum of research education across basic, clinical and translational research personnel.  
Supporting system-wide research education and training across global locations of the Cleveland Clinic. 
Dr. Moravec will continue to provide administrative and programmatic oversight of Lerner Research Institute's Research Education and Training Center. 
Dr. Moravec's 38-year tenure at Cleveland Clinic began as a PhD student in 1984 and has spanned departments in the Lerner Research Institute, as well as Anesthesiology and Cardiology. Her research focuses on human heart failure, and her work has most recently been published in the Journal of Cardiac Failure, Journal of the American College of Cardiology and Circulation. Dr. Moravec holds the positions of Professor of Molecular Medicine as well as Assistant Dean for Basic Science Education and Director of Graduate Programs at the Cleveland Clinic Lerner College of Medicine.   
Press Release from the Lerner Research Institute Communications Office.