Posted on April 25, 2023 at 3:59 PM, updated May 2, 2023 at 9:04 AM Print
On April 25, 2023, the College of Arts and Sciences at Cleveland State University hosted its first annual Awards Luncheon to recognize faculty and staff accomplishments.
Those who were promoted include:
Brian Bailey, School of Music, promoted to Senior College Lecturer
Michael Baumgartner, School of Music, promoted to Professor
Kathy Curnow, Department of Art & Design, promoted to Professor
Anita Gabrosek, School of Film & Media Arts, promoted to Associate Professor of Practice
Federico Galetto, Department of Mathematics & Statistics, promoted to Associate Professor with Tenure
Lydia Grebenyova, Department of World Languages, Literatures & Cultures, promoted to Senior College Lecturer
Steven Gubkin, Department of Mathematics & Statistics, promoted to Associate College Lecturer
Andrew Resnick, Department of Physics, promoted to Professor
Marcus Schultz-Bergin, Department of Philosophy & Religious Studies, promoted to Associate College Lecturer
Andrew Slifkin, Department of Psychology, promoted to Professor
Karen Sotiropoulos, Department of History, promoted to Professor
Parthasarathy Srinivasan, Department of Mathematics & Statistics, promoted to Professor
John Van Stan, Department of Biological, Geological & Environmental Sciences, was awarded Tenure
There were five additional awards: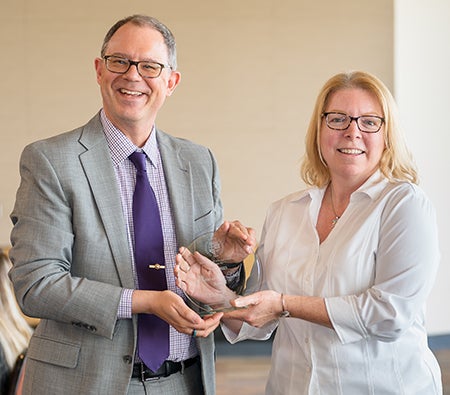 Elaine Chuha earned the 2022-2023 Outstanding Staff Recognition Award. Since joining the Department of Mathematics & Statistics in 2010, she has been instrumental in the growth and development of its programs and facilities. She has been exceptional with all aspects of her job, including supporting faculty and students, especially during the pandemic. As her nominator stated, "Elaine's service to the department and to the university is outstanding; she is invaluable to the smooth functioning of our department (and, by extension, I would say to the University)."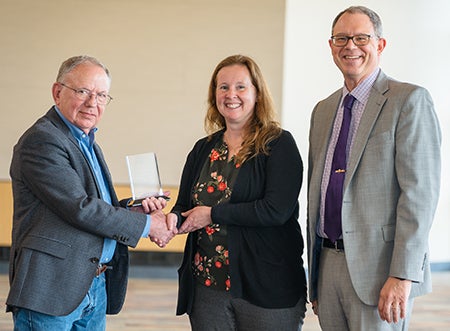 Professor Jearl D. Walker assisted in recognizing two faculty who earned the Outstanding Teaching Awards, which are in fact, named for him. Associate Professor Elizabeth Goncy of the Department of Psychology received one of the two awards. Her nominator wrote, "Dr. Goncy is truly an exceptional gem of a teacher, highly involved in the education of CSU students, a highly respected mentor and colleague, and an exceptional leader within the field of Clinical Psychology. This sustained, and multifaceted excellence spans the Psychology Department at CSU, the greater CSU community, the greater Cleveland area, regionally, and nationally, and this is an extremely rare accomplishment that most individuals do not attain."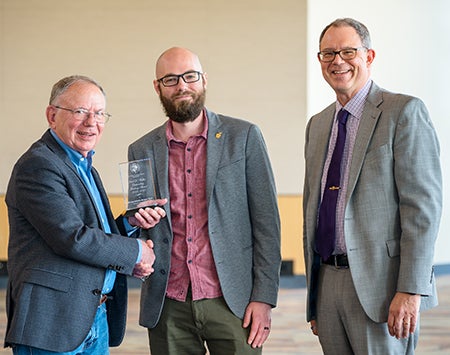 The second Walker Outstanding Teaching Award went to Associate College Lecturer Marcus Shultz-Bergin of the Department of Philosophy and Religious Studies. His nominator said, "Dr. Schultz-Bergin has demonstrated a truly remarkable dedication to the craft of teaching and, as a result, compiled a record of true excellence. His efforts have benefited not only his own students but also the colleagues and programs with whom he has shared his knowledge and experience, both in his own department and beyond."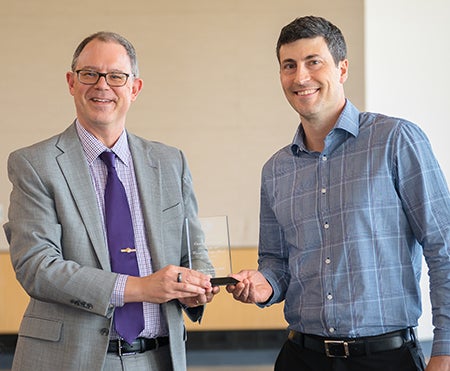 The last two awards were presented for Outstanding Research, Scholarship, and Creative Activity. Associate Professor Daniel Munther of the Mathematics & Statistics earned the 2022-2023 award. Dr. Munther's research utilizes mathematical models to predict pathogen contamination in food and infectious diseases. He has published more than two dozen peer-reviewed articles in leading journals of mathematics, biology, biophysics, and food safety. He has been a very active and productive grant writer, receiving more than $1.3 million dollars in funding from the USDA, the Center for Produce Safety, the Public Health Agency of Canada, and the Math Bio Research Center NIMBioS.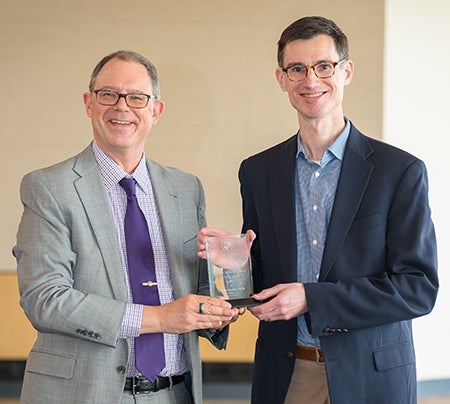 Professor Mark Souther of the Department of History earned the second 2022-2023 Outstanding Research, Scholarship, and Creative Activity Award. Dr. Souther is an award-winning historian who has published two monographs, one edited collection of essays, and sixteen peer-reviewed essays. He is also a public historian with several influential projects, including Green Book Cleveland, which documents Black historical sites in northern Ohio, and Cleveland Historical, which catalogs historical sites on a free mobile app. Dr. Souther is also a highly successful grant writer, receiving nearly $2 million in funded projects and research.